I don't think there's any place like Canada. Between the cerulean blue lakes to the purest white snow-capped mountains, nothing beats the natural beauty that Canada holds. We just had to know the ins and outs of some of the most famous spots the country offers. That's why when @jennadouce reached out to us about her recent trip all across Western Canada, we eagerly accepted.
The vivid mental images Jenna paints are backed up with photos she took while making her way through a number of renowned destinations. She even threw in a few side notes for us as well.
How It Started
We opted for a road-trip across parts of Western Canada from Alberta to British-Colombia. The whole trip takes about 22hours of driving but we spread it out over 10 days and stayed in different locations. We took a flight from Ottawa to Edmonton, Alberta. Once there, we rented an SUV which would be our companion for the rest of the trip. Many people also opt to fly into Calgary and start from there (both great options).
Most of the road-trip through the Canadian Rockies is filled with awe-inspiring, draw-dropping mountain, glaciers and wildlife views. The road-trip allows for ample time for unplanned breaks to explore the stunning landscapes and take spontaneous adventures. We found ourselves stopping at multiple different natural hot springs to relax from the long drives.
Best Part
During the road trip, we got to see a crazy amount of wildlife including 9 Bears, many Elk, Mountain Goats, Bighorn Sheep, and of course Moose.
My heart couldn't have been happier than during this trip. It's so easy to fall in love with different countries in the world, but I found it important to fall in love again with my own country. Canada has such an unspoiled taste of nature and beauty, so it's easy to feel at home here. Everything in nature goes at its own pace and it felt so good. No feeling of guilt or rush. Just being able to fully enjoy the moments and be present.
Jasper, Alberta
Jasper is an alpine town in the Alberta province of Canada and is absolutely stunning. We visited in mid-June and all the Rockies were still snow-capped with many glacier-fed lakes, forests, and rivers. The city is set within sight of four impressive mountain ranges.
The Jasper Skytram is a cable car that soars over the steep face of Whistler Mountain. You can then hike around the summit and have a mountain top dinner with a 360 view.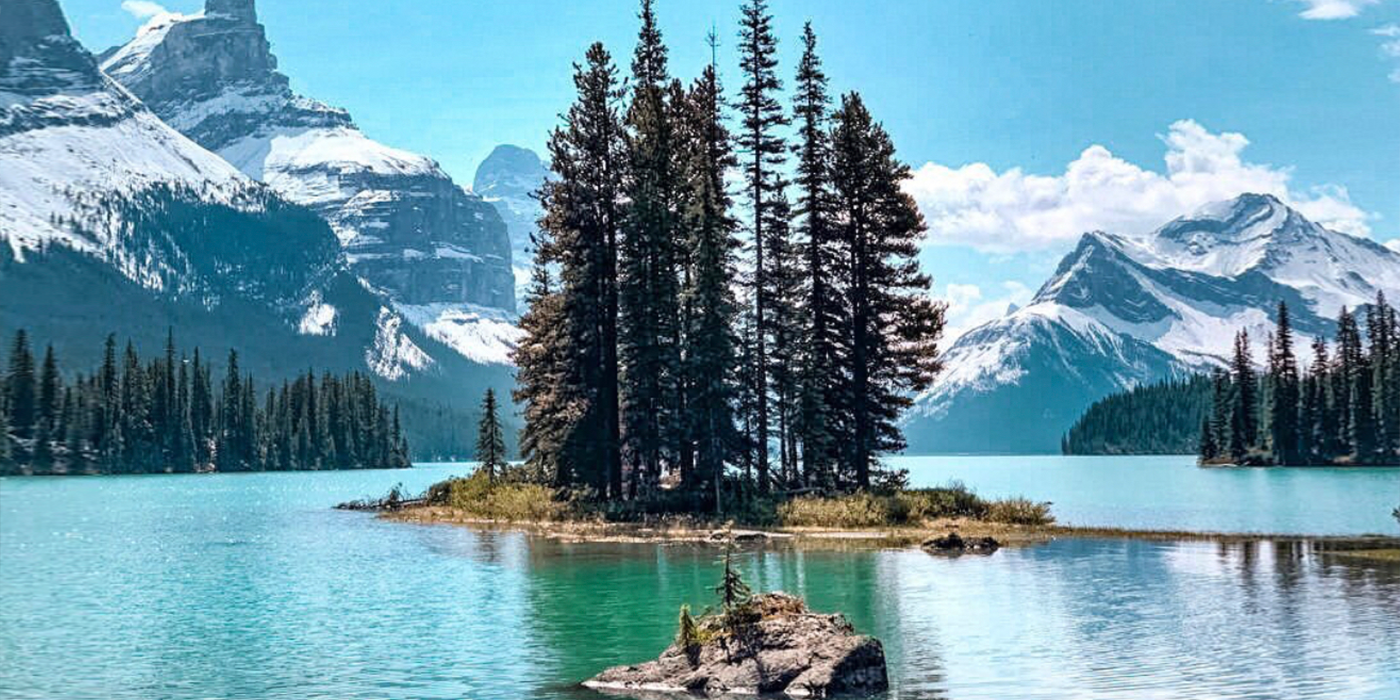 My favorite highlight was definitely Maligne Lake, famed for its azure-blue glacier waters and of course, Spirit Island! It's the region's largest natural lake and is an impressive 13.7 miles in length. The trails are a majestic experience with 360 views of infinite glaciers and lakes. You can hike a bit on the brink of the canyon, then continue past Medicine Lake to Maligne Lake. We opted to also book with Pursuit Collection for an amazing boat tour around Maligne Lake and it allowed us to visit spirit island.
A good intermediate hike in Jasper in the Bald Hills as it features great panoramas of Maligne Lake hikes and it's about 13 kilometers.
Banff, Alberta
Banff is a resort town located within the Banff National Park surrounded by mountain peaks. It's a bustling town with all the restaurants, bars, and boutiques you can think of. Once in Banff, there are a lot of tourist things to do. We visited Mt. Norquay, Lake Louise, Morraine Lake, the Banff Hot Springs, multiple restaurants, and did some hiking.
My favorite lake was Lake Moraine. It's about a 20-minute drive from Lake Louise and had a lot fewer tourists. Moraine Lake is only half the size of Lake Louise, but in my opinion, it's more scenic and you can see the beautiful valley of The Ten Peaks. When we visited, the glacier-fed lake was an intense shade of turquoise blue and we watched the water fade behind the massive rocks.
Lake Louise is definitely a beautiful, but touristy spot. It's probably the most photographed lake in the world and top spot for canoeing. Insider tip: you can hoke the Lake Louise lakeshore trail or hike up to the Lake Agnes Tea House.
Popular hiking spots in Banff included:
Bow Falls Trail
Bow River Trail
Hoodoos Trail
We also ended up doing the Banff Gondola to the summit of Sulphur Mountain. A very touristy thing to do. You can then have a 3-course dinner at the summit and go to viewing desk and mini hiking trails.
Watch for free-roaming elk, grizzly bears and bighorn sheep!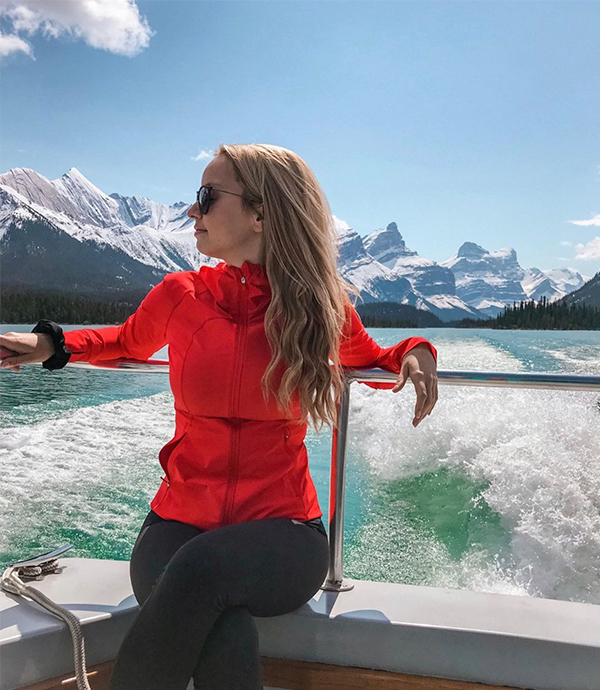 Icefield Parkway (Highway 93)
On our way to our third destination, Revelstoke, we took the dazzling drive through the Icefield Parkway. Here you go through tons of glaciers throughout the 143 mile long stretch, filled with forested river valleys that go up and down the mountains. We saw jaw dropping scenery all along the way.
Note: For the majority of the highway, you have no cell service or radio. You are fully submerged at the moment.
One of National Geographic's Drives of a Lifetime.
We made sure to make a stop during our drive to do the Colombia Ice field Adventure and check out the Athabasca Glacier through a great tour with Pursuit Collection. The Glacier Experience allowed us to step right on the glacier itself and the guide educated us on its history. We ended the visit by walking out on the glass-bottomed skywalk which was a really cool experience.
The drive to Revelstoke, BC, was one of the most spectacular ones in Canada with so many dramatic peaks, glaciers, lakes, and forests.
We stopped at the Crossing Resort, located at the Saskatchewan River Crossing for gas, food and a night's sleep. You'll see there are barely any hotels along the way and this is one of your only gas options for hours!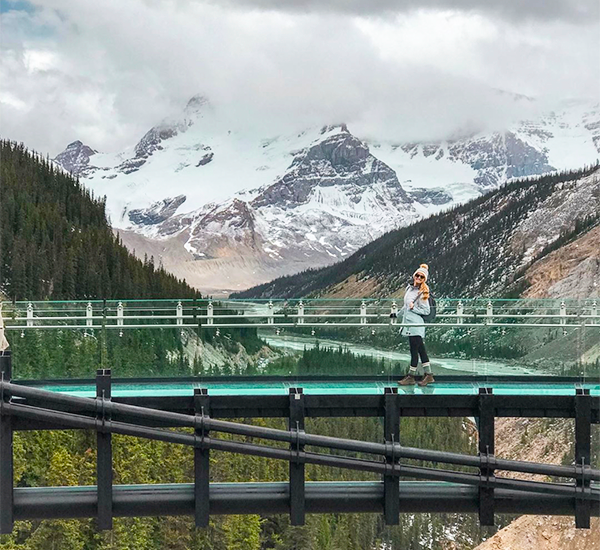 British-Columbia
On our way there, we stopped at spots like the breath-taking Emerald lake, the Giant Cedars, and so many other spontaneous stops. Revelstoke is a city in southeastern British Colombia. I found it to be a beautiful little ski town that had a lot to offer with a beautiful Mountain Resort for winter skiing.
We were told that in the winter it's extremely popular for the Revelstoke Mountain Resort to have, Backcountry ski touring, dog sledding, heli-skiing/boarding, cat skiing, snowshoeing, and so on. In the summer, you can dirt bike, do helicopter sightseeing tours, Rainforest hiking, Tandem Paragliding tours, golf, kayak, etc.
Kelowna, British Colombia
Welcome to wine country! Kelowna is a city in the south of Canada, BC. Traveling here took us through the scenic Okanagan Valley where there are countless vineyards. Where there are vineyards, there is wine. All the wine! The weather in this region is a lot different from our other stops, it's much warmer here.
We took it a bit "easy" here, we did a vineyard tour and enjoyed the weather with some glasses of fermented goodness! We opted for the Mission Hill Family Estate Winery. It's a large vineyard with modern buildings, an amphitheater & a locavore restaurant with great tours and wine tasting. It was a great evening and a nice break from hiking and "roughing it out." They have nice beaches as well with a bit more of a "resort" vibe.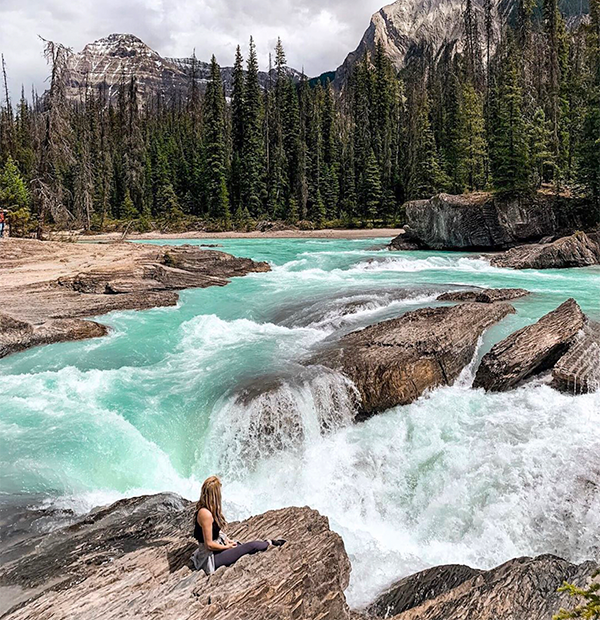 Vancouver, British-Colombia
We drove from Kelowna to Vancouver, the drive at that point is a lot more like highway driving and less scenic. Nonetheless, Vancouver is a stunning big city surrounded by mountains.
On the first day, we rented bikes and went around Stanley Park for a few hours viewing Vancouver by bike. Later that day, we visited Granville Island by ferry. My favorite area in Vancouver was probably Gastown since it has a trendy food and drink scene with a great edgy feel.
Out of all the places, which one made the top of your list?
It's so hard to narrow down because I loved it all. If I had to pick, I'd say Jasper. The magnificent beauty of glaciers, lakes, and rivers made it a hiking paradise. A lot of the trails in the Jasper National Park were easily accessible and reminded me of Banff but with fewer tourists. The entire trip across the Canadian Rockies really did provide the stunning backdrop Instagram always promised it would. There really is #nofilter needed.
What are some of the things you wish you did while in Canada?
It's such a vast landscape and so much to see across both provinces! I could go back a million times and still miss some. However, when I do go back, I definitely would like to go to the Kananaskis Country. I've heard it's another paradise for hikers. I'll also be sure to hit Vancouver Island and Victoria.
What was your favorite place to eat? (tells us all the details you can about the meal, the people and the atmosphere)
I can't say that I had a favorite place. This trip was very different than many of my other trips and was more road-trip oriented. Our priority was exploring nature and hiking. Unlike most of our travels, we didn't seek out any foodie experiences, at least not intentionally.
My favorite "foodie" moments are when we ate croissants and pringles for diner in the car with that spectacular view, that was better than any restaurant! That being said, if I had to pick one spot, I would recommend the Diamond in Vancouver. It's located in Gastown and is a bustling craft cocktail lounge with old-world charm overlooking the maples tree square.
With an atmosphere like that, an extensive menu and friendly service, what more could you ask for? Their menu features a great selection of whiskey, bourbon, and gin-based cocktails, some of which were thought up in the '90s. A whole flight of Old Fashioneds to choose from. Very nice place to come to after dinner with a great vibe in the bar-hopping Gastown district.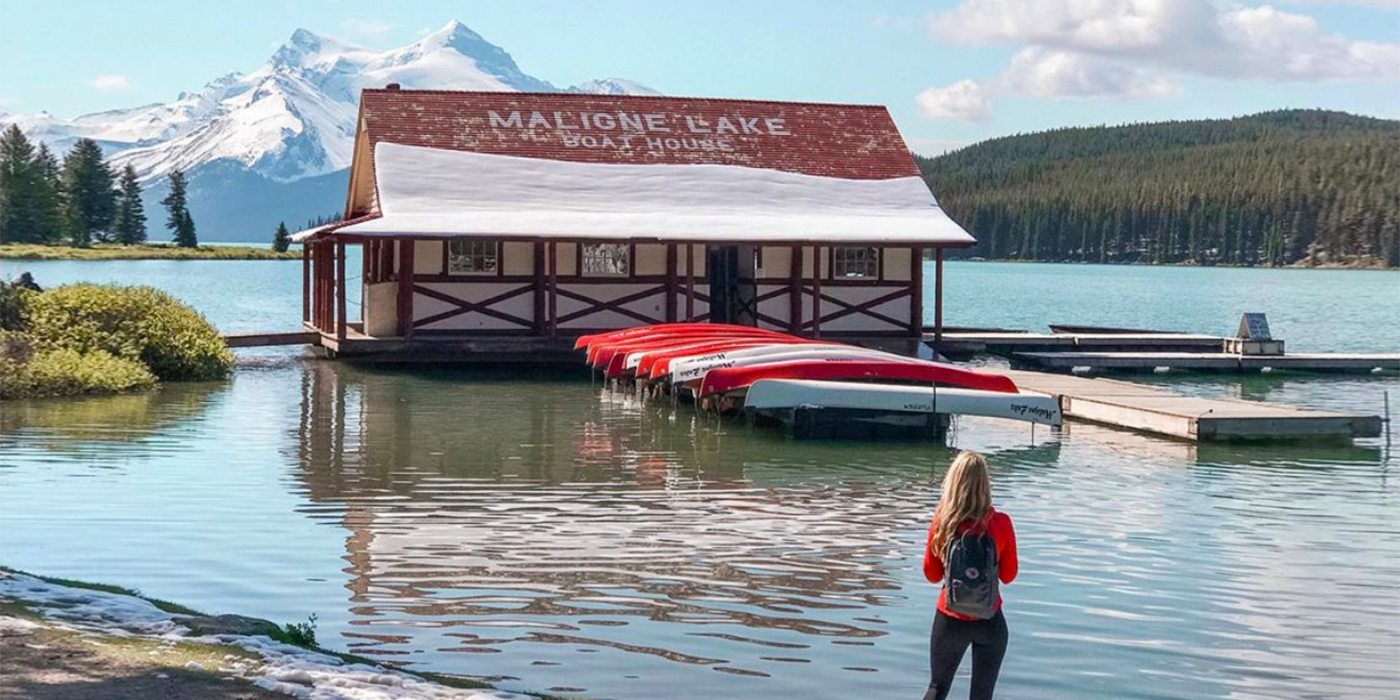 How About Lodging?
We stayed in a lot of different places throughout our road trip. While in Jasper, I recommend staying somewhere with a cabin vibe like the Pocahontas Lodges.
In Banff, you have a lot of different options! If you want to splurge, you can stay at the Fairmont Lake Louise or opt for a more affordable bed and breakfast in downtown Banff.
In Vancouver, we stayed at the Vancouver Marriott Pinnacle Downtown Hotel which was a fantastic location! I highly recommend this one.
Planing a trip to Canada? Click here read about Canada's ultimate winter wonderland.