There is no one way to experience Puerto Rico. It offers so much to every person that steps on its land. Everyone has a different experience, even one person can have a different visit each time. We invited Madeline Hill of @thewininghills to share her family's unique experience with us and all of you. Read on to find out everywhere to go and everything to do!
Where To Go
Madeline notes two infamous forts in San Juan: Castillo San Felipe del Morro and Castillo de San Cristobal. Doing both in one day is a lot so Madeline saw each fort on separate days. She notes, "They're pretty interesting to walk through and understand the history behind the island." Puerto Rico is one mighty island and has fought hard over the years to keep its land safe. The forts are open daily from 9AM-6 PM and only costs $7 for a ticket to both forts.
How About Art?
Viejo San Juan AKA the old city center is packed with 500-year-old buildings and all feature different colors similar to the rainbow. All you have to do is walk around to experience this magical site. There's another street you should see: the umbrella street. Its real name is Calle de la Fortaleza and Madeline describes it as, "Umbrellas are lined along the street and at the end of the street is a beautiful bright blue hospital."
If you're traveling to San Juan then you can't miss out on this world-renowned view. The lookout at El Morro fort offers visitors a unique and unbeatable view of the coastlines of the island. Madeline was able to take some shots here and share it with the world.
Staying Active
In Puerto Rico, there are so many outdoor activities. Between hiking in the El Yunque rainforest, surfing, walking through the city and swimming on the beach. There are endless opportunities to incorporate workouts within your travels. The best part? You don't have to fit any of them in your budget!
Socializing
There are a lot of bars and nightlife spots in San Juan that offer you the chance to meet other awesome people! One of the best bars Madeline visits is La Factoria. This bar is on multiple lists for best bars not only in San Juan but on the island! You know it's a great spot when it doesn't open until night.
Best Eats
One of Madeline's favorite restaurants in San Juan is a rustic spot, Casita Miramar. The food is fresh and delicious. As a whole Puerto Rico has a diverse range of foods from multiple backgrounds. When I tell you there is nothing better than Puerto Rican Monfongo, I mean it. If you aren't familiar with the dish, it can be served with seafood, meat or vegetarian style with the star of the show being fried plantains.
If you see a dish you want to try at Casita then you better order it because the menu changes daily. Why? Casita uses whatever local fresh produce is available that day and uses them in their dishes. Madeline also recommends trying both the white and red sangria as the cherry on top to your dinner.
Lodging
In the past, Madeline has stayed at La Concha and she has nothing but great things to say about it. They offer pools and most days Madeline and her travel companions spent the day pool hopping and swimming in the ocean. 
This visit, Madeline chose to book an Airbnb in Old San Juan. She even went as far as to say, "There was an energy around us and it was fun to just walk all over the neighborhood." Her Airbnb is a three-story tall building that features a balcony on every level (Ok I'm sold) and comfortably fits a family of 6. Madeline and her family were able to watch the New Year's fireworks right on their balcony. 
Equipment & Editing Tips
Madeline uses a Canon 200D for all of her photos and tries to take them at sunrise to get the best lighting. What better place to get natural lighting than Puerto Rico and in the early morning no less. Madeline wandered by herself and captured some pretty great shots. She also brought along her drone and was able to use it quite easily.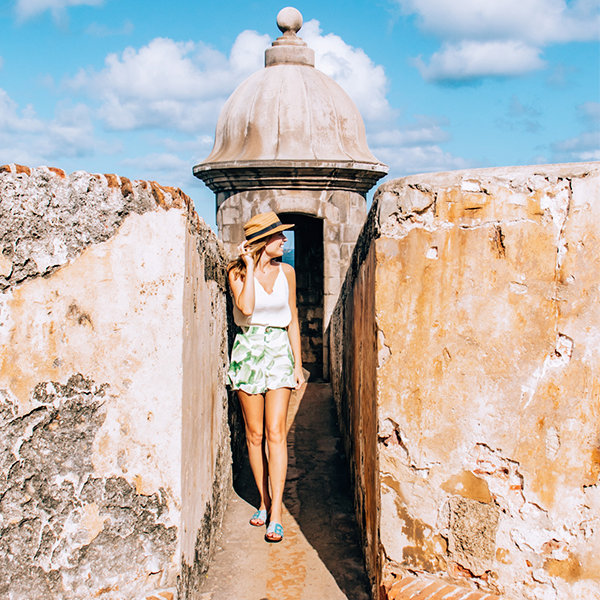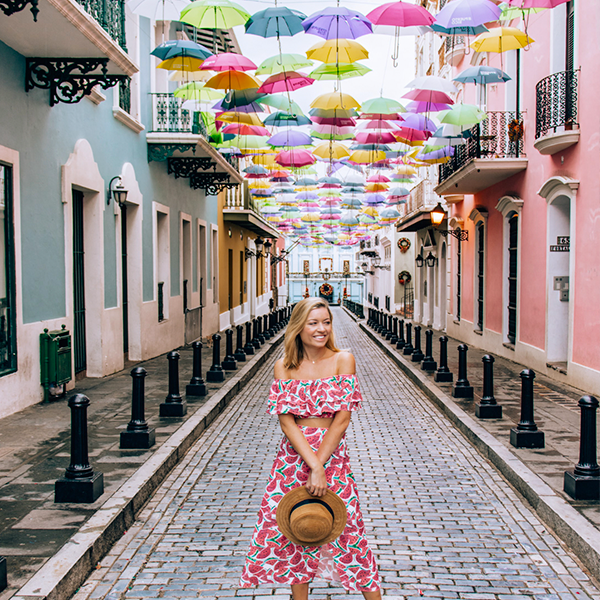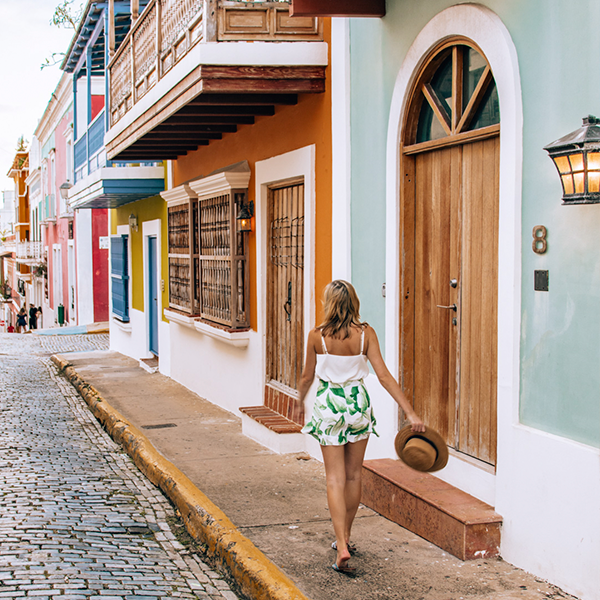 Travel tip: Madeline recommends researching restrictions on drones in the country you're traveling to.
For editing, Madeline uses Lightroom for all her photos and uses her own presents.
Be sure to follow Madeline and her family's adventures on Instagram: @thewininghills
More trips and tips are waiting you here