While cities like Cancun, Cozumel, and Playa del Carmen have long-been Mexico's Caribbean coast destinations, Tulum is quickly emerging as a popular travel escape from those busier tourist areas. For years, Tulum was thought of as a place to go for a day-trip to see the ancient Mayan ruins. Now, travelers are seeking out Tulum as the place to stay during their trip to Mexico. We reached out to content creator Nadia Gamez of @travelthelife  to find out all there is to experience in historic Tulum.
What You Must Do
Nadia describes Tulum as a "Caribbean Bali" so of course, there is plenty to experience outdoors. One of the most exciting things to do in Tulum is to swim in the cenotes, which are naturally-formed sinkholes usually near caves. Nadia recommends the Gran Cenote and Cenote Suytun. The Bacalar Lagoon is another spot to check out while you're there. It's about 3 hours away, so plan for a day-trip if you go there.
 
Architecture You Should Not Miss
Tulum is a great destination if you enjoy architecture and history. You can't complete a trip here without seeing the ancient Mayan ruins. In addition to the ruins, travel about 2 hours to see the historic Chichen Itzá, which is listed as one of the Seven Wonders of the Modern World.
Valladolid is another area that is close enough to Chichen Itzá and Cenotes. The city features colonial-style architecture and folk art scattered through the streets. This area wouldn't be complete without its baroque style Cathedral.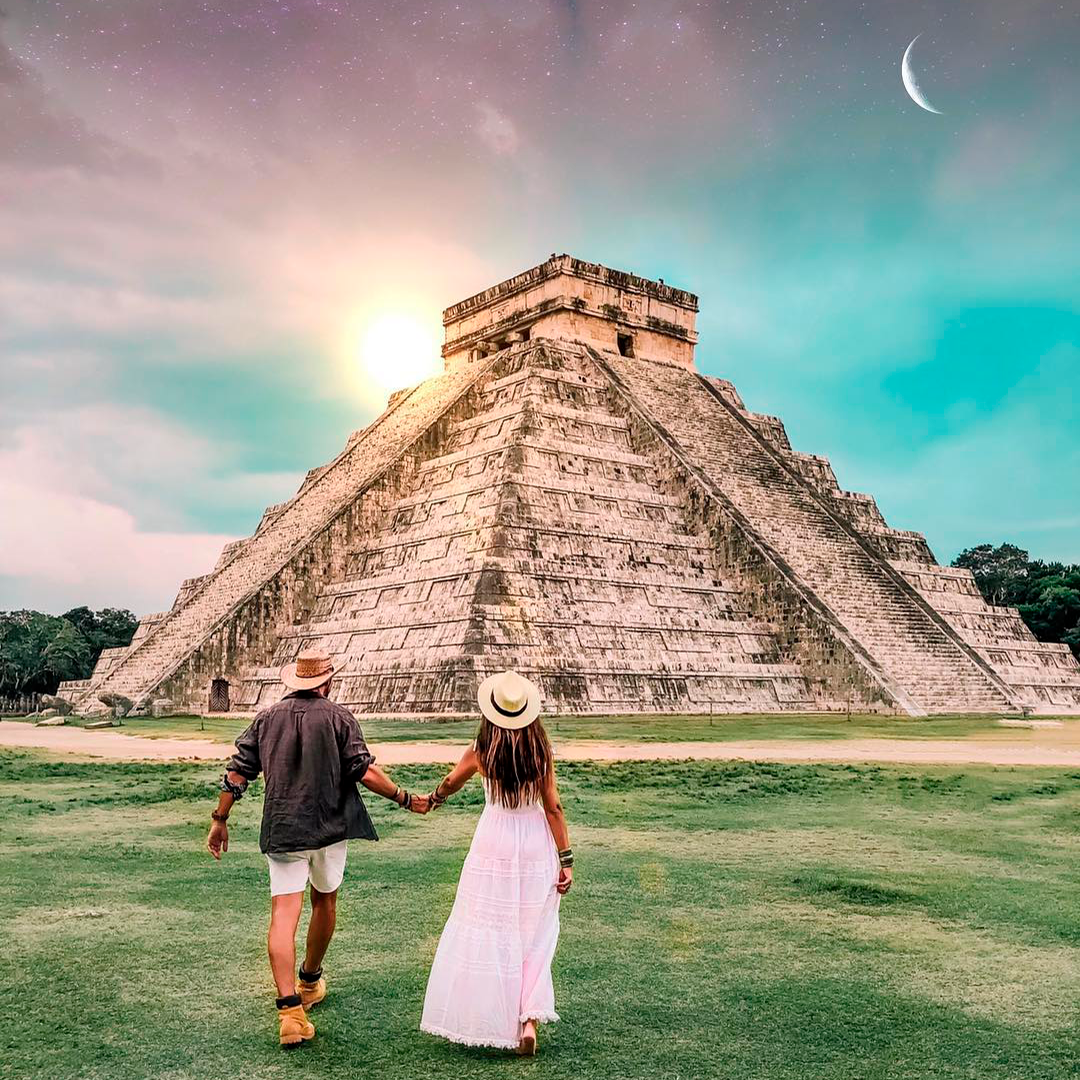 How You Will Stay Active

If you plan to just stick around the Tulum area, Nadia says a bike is just what you need. It's also an opportunity to see the area and stay active at the same time. Who doesn't like multi-tasking?
Where To Connect with Humans
As mentioned earlier, Nadia describes Tulum as a "Caribbean Bali," adding that it's a place with "happy vibes and creative people." That sounds like the perfect opportunity to meet like-minded travelers and make life-long friends. Taking part in activities like swimming in cenotes and visiting the Mayan ruins are great opportunities to meet fellow travelers. The locals are some of the friendliest in the world, they are inviting and will make you feel right at home. Be sure to connect with them as well, you won't regret it. Head to nearby towns to strike up a conversation and get to know others. Of course, bars and restaurants are always a go-to for meeting people, which brings us to . . . 
 
What was your favorite place to eat?
Nadia shares plenty of fantastic spots for food and drinks. If you're in town, head to either La Malquerida or Batey. If burritos are your thing, then you'll want to go the spot in town literally named Burrito Amor, or 'Burrito Love.' 
Nothing beats an ocean view, for a place on the beach, head to Nomade Tulum, Raw Love, Alma Tulum, Casa Malca and The Real Coconut. All offer you the best food and the best views. 
Where Should You Stay?
If you're looking to stay in a beach-side villa, Nadia recommends both the Mahayana Tulum and Zorba. Mahayana is great for couples, families, and friends. It provides a private environment, complete with a beach, pools, and kitchens. Nadia adds that Zorba is a great value and the people there are very kind.
 
Tata Tulum is a boutique hotel option for travelers, and although it's on the pricier side, Azulik provides stunning villas right on the water. Lastly, Nadia recommends the Papaya Playa Project. She describes the lodging as "hippy cabins with a fun party environment."
To follow Nadia and her travels, you can visit her website at travelthelife.com