Saudi Arabia is not exactly known for being a travel destination. In fact, it's actually quite difficult to visit there. Because of this, there's a lot of mystery surrounding the topic of Saudi Arabia travel. Is Saudi Arabia even open to tourists? What travel advice do I need when visiting Saudi Arabia? What are the customs and culture like? Is it safe to travel to Saudi Arabia? These are all valid questions travelers may ask, so we spoke with London-based content creator Liolaliola, who recently traveled to Saudi Arabia. Not only did she provide us with a glimpse into what there is to experience, but also important travels advice.
What Are The Requirements To Travel To Saudi Arabia?
It's only during the last few months when Saudi Arabia started opening its borders to tourists. The only way to obtain a travel visa is if you're going to a cultural event. Olga managed to get a visa because she was invited to attend the Winter at Tantora festival, which lasts until the 9th of February.  Once it's over, there will be no more visas issued. It's rumored that in the near future the country will be opening its doors to visitors. 
                                                 
What Are Saudi Arabia's Clothing Laws?
Travelers get asked all the time if it's necessary to wear an abaya when visiting, Olga is no different. She said during her stay that she wore an abaya out of respect. However, it's not necessary for all travelers to wear one, as long as your shoulders and legs are covered. 
What You Can't-Miss Out
Al-Ula is the place to visit in Saudi Arabia. It's located 300km North of Medina and is a historic trading route. Visiting this archeological site is a must. You can do an excursion by car or by helicopter. Olga says, "the view from above is unbeatable", she recommends that you book a helicopter excursion. Her stay at Al-Ula felt like she was transferred back in time. The place is remote and mysterious. Olga was one of the first tourists who ever had a chance to visit this archeological site. We hope that in the future, the borders of Saudi Arabia will be open to all visitors, "so more people can experience this magical place."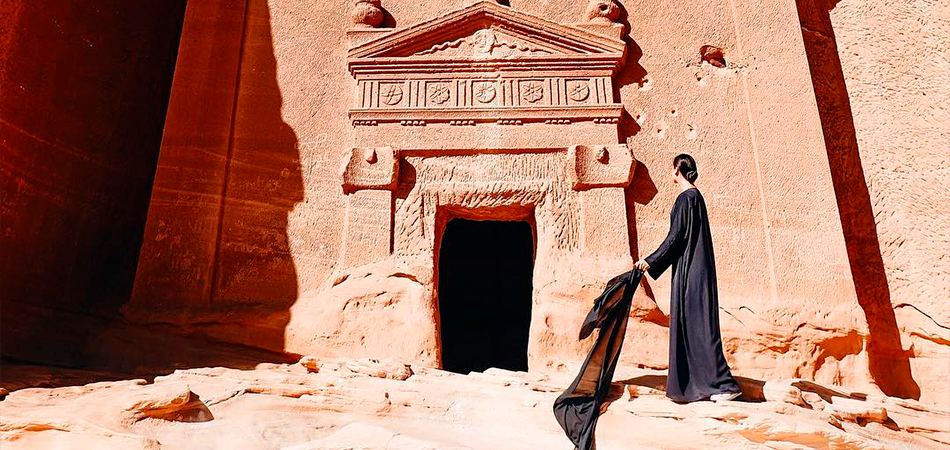 What Famous Saudi Arabia Architecture Should We See
Mada'in Saleh. It's one of the most significant archaeological sites in the Middle East. It's one of Saudi Arabia's greatest treasures, proclaimed as the Kingdom's first UNESCO World Heritage site.
Formerly known as Hegra – or Al Hijr in Arabic – it's the largest protected site left of the Nabataean people. Located in the Al Madinah region, halfway between Petra and Medina, Mada'in Saleh once served as the second capital of the Nabateans.
The most famous archeological treasure of Mada'in Saleh is Qasr al Farid – or the 'Lonely Castle.' The ancient tomb is carved out of a single rock. Constructed around the 1st century AD, it's one of the 111 monumental tombs scattered around the landscape of the Madâin Sâlih.
How You Can Stay Active
The Winter at Tantora festival provided a lot of activities. Olga and other attendees got to ride horses, go on hikes and did yoga throughout their stay. The main way to stay active when visiting is to walk around and explore. This is the best way to not only stay active but to also get a memorable experience during your stay. 
What was your favorite place to eat?
Since Olga is vegan it was hard for her to find dishes that fit her diet, especially when traveling through the desert. Although hard, it's not impossible. Like most places, you can ask the cook for a dish that's made with no animal products. During her stay in Saudi Arabia, Olga enjoyed lots of fruits, grilled vegetables with rice, and lots of local dates. "Which are the most delicious dates that I've ever tried," she added.

Where Should We Stay?
We here at ARTRPRNR did a little digging of our own and it turns out there are quite a few options for travelers. Familiar hotel chains like the Ritz-Carlton, Hilton, Hyatt, and Crowne Plaza are just some of the hotels available. Trip Advisor has a list, 10 Best Hotels in Saudi Arabia, accompanied by reviews from patrons. As always, it's best to do your research.
To see more of Olga's travel adventures, you can follow her on Instagram at @liolaliola