Trentino, Italy. Unless you're a geography aficionado or Italian native, you've likely never heard of this area. That's what we're here for. Trentino is an Italian province located North of the country in the Italian Alps. We reached out to content creators and real-life couple Domenico and Frida to uncover this under-the-radar Italian getaway. 
What You Must Do
When it comes to art, remarkable landscapes, and architecture, Italy has it made. While technically you could knock out a visit to Trentino in a week, Domenico and Frida say a 10-day stay is even better. The reason? There's plenty of things to see and do here.
First up, Domenico and Frida tell us to visit the Lake of Braies and enjoy a romantic ride on a wooden boat. Don't forget to pack your hiking gear for that boat ride, why you ask? Once you reach the Rifugio Locatelli you can enjoy picturesque views while hiking at the Tre Cime di Lavaredo. It's one of the best mountain groupings in the Italian Alps and is one of the most popular hikes in what's known as the Dolomites of Italy. Domenico and Frida's photos from these places are simply incredible. The pictures alone with have you booking a flight here.
Then it's time to relax in a local cafe and do some shopping while also checking out the Cortina d'Ampezzo ski resort.
Hope you aren't tuckered out yet, because after that you'll want to climb with the cableway at 2500m to see Seceda, Domenico and Frida say it's another symbol of the Dolomites. You can then descend and visit the village of Ortisei in Val Gardena, which is a beautiful spot they report.
A couple other places to check out are Lake Sorapiss and Lake Carezza.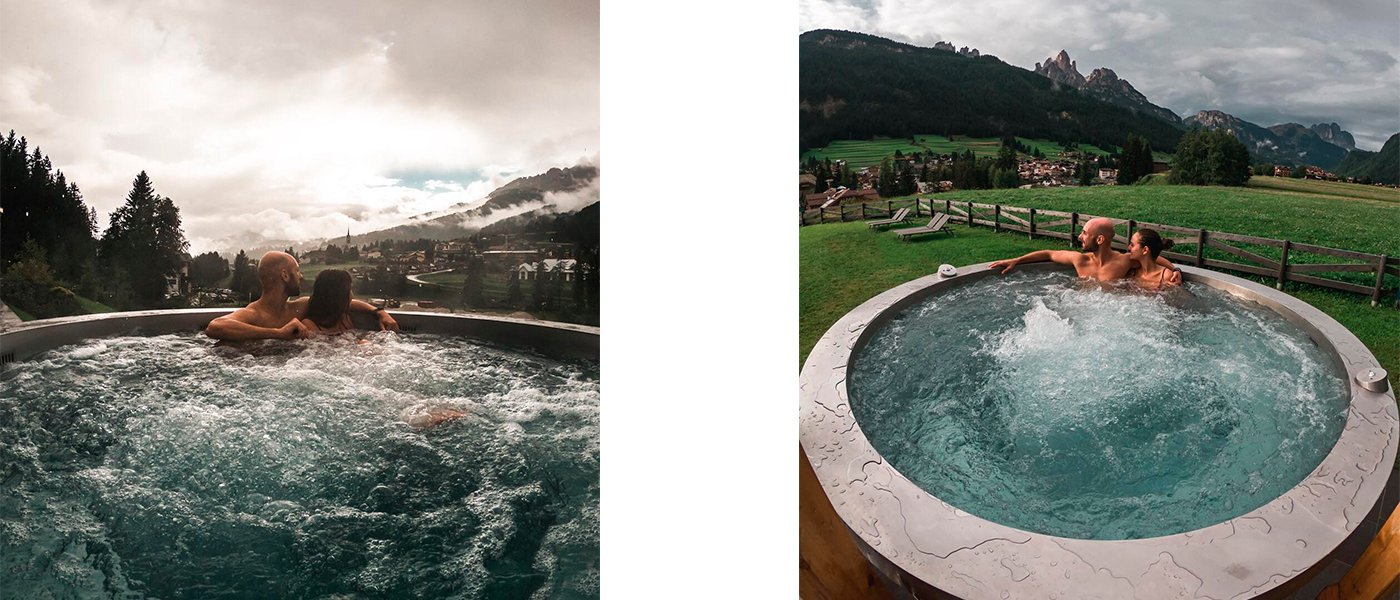 Architecture You Should Not Miss
This is the same country that gave us the Colosseum, the Duomo, and the Pantheon. Sure enough, even in the Alps you're bound to find the same level of architecture. Domenico and Frida say the Messner Mountain Museum – or MMM – is the "coolest architecture" they've seen. It's located in the Plan de Corones and was designed by Zaha Hadid – no relation to Gigi or Bella. They say it's a place dedicated to traditional "mountaineering" and features an astounding view of the Italian Alps themselves. 
How You Will Stay Active
If you haven't noticed yet, the best way to stay active here is simply by exploring the area. You'll be burning plenty of calories hiking throughout the mountains and even hiking giant steps. 
What was your favorite place to eat?
Of course, another perk of visiting Italy is the amazing food. Domenico and Frida have given us two of their favorite places to eat while in Trentino. Their first recommendation is a place where you can get some impressive pizza. It's located about 2500 meters in front of Seceda. Don't worry about getting it mixed up with another restaurant though, as this spot is the only location to eat in that particular area.
The second place you'll want to grab a meal at is called Rauch Hutte. This restaurant offers local cuisine and gorgeous views. It's located in the Alpe di Siusi. So, what's the one menu item you should try? Domenico and Frida say the famous "canederli," also known as a plate of typical cold-cut meats and cheeses is a must try.  
Where You Should Stay
Get the full Alps experience by staying in a typical mountain wood house known as a "maso". Our Trentino guides stayed here during their first visit. They were just 3km away from the village and were surrounded by the forest and plenty of snow.
Another great lodging option for you is the QC Terme Dolomiti, which is perfect for those who enjoy some relaxing spa time during their travels. After all that hiking, who wouldn't want to enjoy a nice spa day? This place features saunas and steam baths in what Domenico and Frida say is a "regenerating atmosphere for body and soul." 
For more info on Domenico and Frida, including their stunning travel photos, visit them on Instagram at @weloveourlife