Ladies and gentleman, let me introduce to you an amazing local foodie . . . . Marilyn Orozco! You all might know her as @littlemariii on Instagram. Don't mistake her for a one-trick pony, Marilyn is one of the most well-rounded influencers we've been able to feature on ARTRPRNR. She can do anything from cracking analytics to creating beautifully orchestrated photos of food. Born and raised in Miami, this local has learned a lot of the business in just under 3 years. Showcasing local businesses is her talent.
Where do you usually take visiting friends?
Aside from the obvious places like South Beach, Wynwood and Downtown/Brickell are, I like to show friends around Kendall, Westchester, Hialeah & Little Havana. REAL Miami culture is found off the beaten path, which most people don't take.
Name some noteworthy collabs you've done.
I work mostly with local businesses because I myself am one. I like to believe that every city gets its magic from their very own local businesses and owners. There are always inspiring stories to show case when working with local businesses.
Some of my noteworthy collabs are with Sedano's Supermarket, which is a local supermarket brand I grew up with. To me, it's mind-blowing that they hand-selected me as one of their local influencers to start a partnership with. Other local collabs that I've had the pleasure of working with are:
BXLDR
Los Tanitos
Despensa
Creative Cuisine
Strange Beast Brewpub and Pizzeria
Hopportinities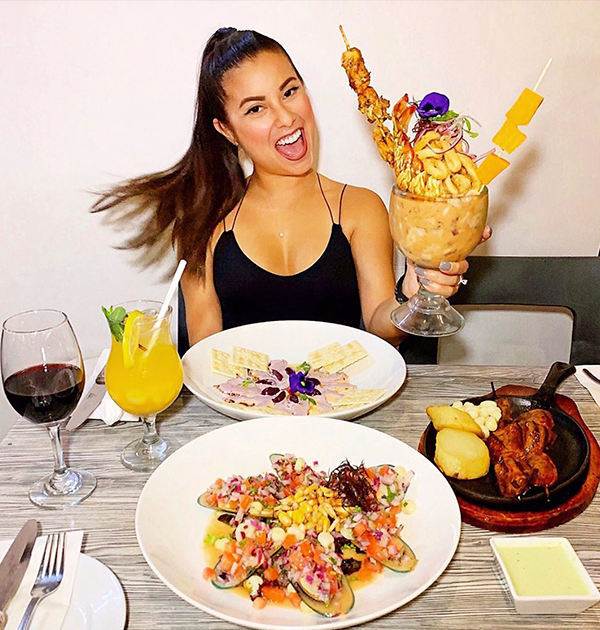 When you're trying out a new restaurant, what are the things you look for?
When I dine out, the biggest thing for me is service. I can easily stay home and cook for myself, so I go out for the experience. Having food that is over the top is always a bonus.
How can local businesses gain exposure on social media?
Most local businesses have a very small budget for marketing and advertising. Social media is so important because nowadays, a good Instagram is the equivalent of a website. If a company has social channels up to par it will catch the eye of potential customers.
With influencers being as big as they are, it makes it easier for small businesses to have their dishes, drinks, and experiencers exposed on the web. Word of mouth isn't just local anymore, it can travel worldwide.
Tell us your biggest challenge as a content creator.
My biggest challenge is staying on top of my own content for my brand. I can get a bit too involved in the brands/clients I work with. It's a good thing because my hard work shows but then it's bad because I tend to neglect my own account. Right now I take weekends off from posting my own stuff. I'm trying to reorganize myself to be able to stay consistent with my own content.
"YOU CAN'T WIN IF YOU'RE NOT RIGHT WITHIN" is a quote I read a while back and it stuck with me. I know that I can't give someone else my best if I can't do that for myself, I'm the foundation of everything I do.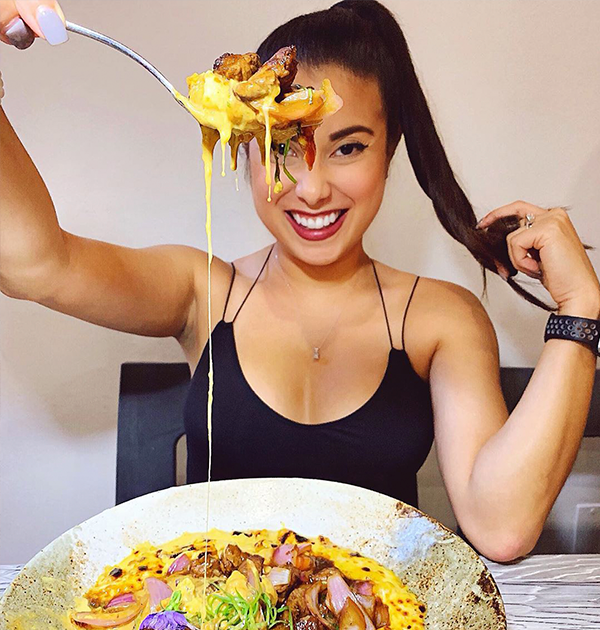 I see that you love to travel, which place has had the best food so far?
I went to Europe for the first time last summer. I was blown away with how delicious everything taste. I went to both Germany and Budapest. In Germany, I went to Springfest, which is like Oktoberfest but in the springtime. I was mind-blown when I saw they served duck and lamb lollipops along with their well-known schnitzel. I've been to many beer festivals in my time and this was the one with the best food.
In Budapest, they had pork knuckle and goulash soup. Everything in Budapest tasted like it came from your grandmother's kitchen. It all felt like home at first bite.
Unrelated to food, what has been your best traveling experience?
My best traveling experience may be a bit biased. I hold Budapest very close to my heart because it's one of the first places I ever visited across the pond. It's also where I got engaged.
How can other content creators better engage with their audience?
Comment back to everyone who comments on your stuff. ENGAGEMENT IS EVERYTHING! People like to feel like they matter. The whole reason for this beautiful thing called the internet is to CONNECT and share our points of view. A simple comment back or response to someone's DM helps them feel connected and makes them following you more meaningful. Life is all about connection.
Who inspires you?
My mom. Growing up she was a mother AND a father to both my younger sister and I. She's always been Super Mom to me because she manages to do the impossible for us. She inspires me to do everything I want to accomplish, even if it seems impossible. It must run in the genes.
My husband is another person in my life that inspires me. He has been a type 1 diabetic since the age of 2 and had thyroid cancer in 2013. He's in remission now but no longer has his thyroid. The fact that this man can get out of bed ready to seize the day without a huff and puff is the reason WHY I'm always thankful and snap myself out of complaining. I have no excuse not to accomplish the things I have on my to-do list. If he can do it, I can too.
Out of all your strengths, which one is your biggest?
My heart. I truly believe that my huge heart and communication skills are my biggest strengths. When I work with brands/businesses that truly align with me and are likeminded, it makes this whole thing more fun. It doesn't even feel like work.
Communication and honesty are major key points for me. I must remember that I'm not perfect, so I have to always be open to constructive criticism. It's important to stay open-minded in order to understand what anyone's want and needs are. Digital Marketing is not about me, it's about the brands that hire me to tell their story via photos and captions.
What book are you currently reading?
I'm currently reading Get Your Shit Together by Sarah Knight. This book is a read everyone should pick up. It's a self-help book written in pure honesty, where the author lets you know that you can accomplish anything. I'm currently living this in real life, so to have someone else tell their story is a huge encouragement to continue down the path I'm on.
You have an Instagram highlight about wines, what type is your favorite?
My all-time favorite kind of wine is Cabernet Sauvignon. Now, in the summertime, I get into the rose kick because it's the most refreshing. Whenever I have my firstborn, their name will be Jordan. Why? Because that's my favorite Californian wine brand. I have such an obsession that my firstborn's name will be Jordan Alexander (Alexandria if its a girl) Hachem. Alexander comes from the Alexander Valley which is where Jordan Vineyards is located.
Top 5 Apps?
Adobe Lightroom
Quickshot
Instagram
Preview
Apple Music
Where do you think your career will be in a year's time?
I hope to collab with more craft beer and wine accounts, and to have more work-related travel. My husband is a Certified Cicerone and thanks to him I've fallen in love with the process of brewing beer. I come from the world of wine so thankfully I know how to appreciate what's being poured in my glass.
One of my favorite things to photograph is beer. I would love to expand my knowledge in photography and perhaps have my work featured editorially, and of course, all over the world.
What's some advice you have for people just starting the process of building their brand?
Stay consistent! You may or may not see the fruits of your labor immediately, but I promise you that with consistency and patience you will. Starting my blog and the growth of my Instagram account encouraged me to pursue freelance work in digital marketing with local businesses. If your heart is in it, then follow it. The best job to have is one that doesn't feel like you're working. Every day for me is "another day in paradise" with what I do.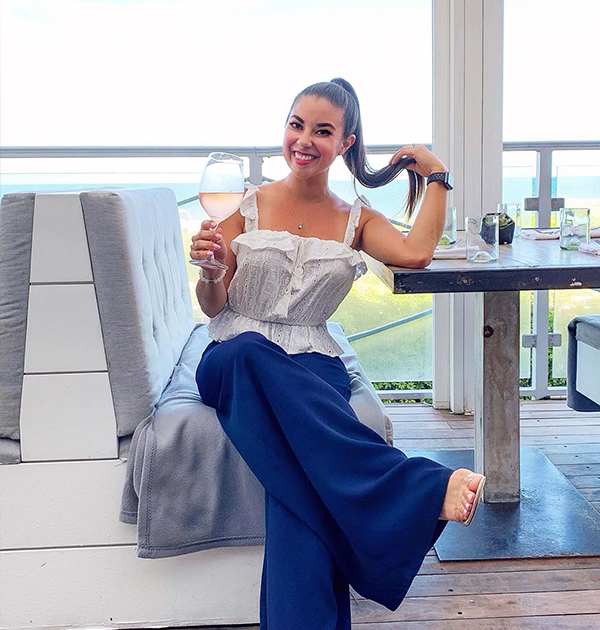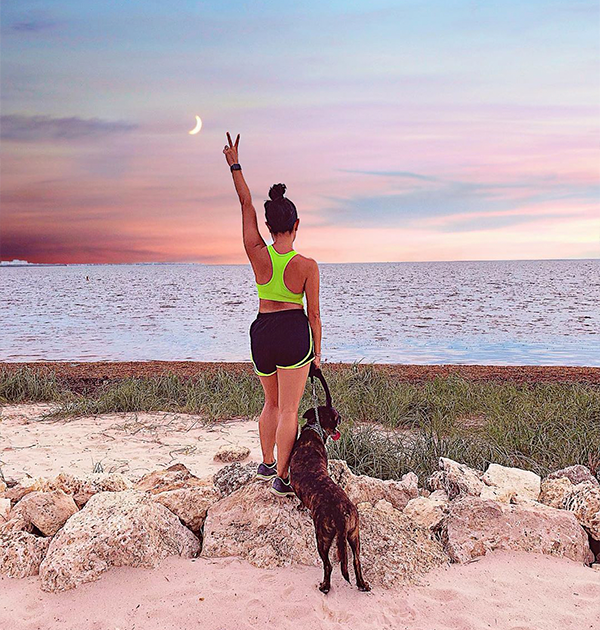 Be sure to follow Marilyn on Instagram, @littlemariii.
To keep up with our local spotlights make sure you sign up for our newsletter! Otherwise, click here.