Hong Kong – that famous city with a distinct mix of Eastern and Western cultures. We spoke with content creator Daniela Caccia @explorewith_dani, who has been living there for several months now. She shares with us the "drama, charm, and beauty" of Hong Kong, with a wide range of Hong Kong travel tips.
Galleries you HAVE to see
One of the best neighborhoods to find art is going to be Kowloon. It features revamped factory buildings along with shopping malls such as Jockey Club Creative Arts Centre (JCCAC) and Cattle Depot Artist Village. Kowloon is where you'll find independent galleries like Swing A Cat Gallery and C&G Artpartment, which Dani says have made big waves in the local art scene. M+ Pavilion is also an interesting architectural structure you can check out.
Amazing Street Art
Anyone who knows travel and Instagram well knows just how perfect street art can be for great photos. For those ideal Instagram mural shots, Dani tells us there are several areas that Hong Kong has to offer. In Central, you'll find plenty of murals like Graham Street Wall Mural (44 Hollywood Road) and Oddies Foodies (45 Gough St).
Architecture To Check Out
Like many major cities, Hong Kong is a concrete jungle that Dani describes as a "tower-studed cityscape". One building you'll want to visit is the Monster Building, which can be found in Quarry Bay. Dani says it's become a beloved filming location in Hong Kong. For more colorful buildings, get lost in popular places like the Wan Chai District, which features pink and cotton candy-colored structures. Dani says getting lost here is one of her favorite things to do.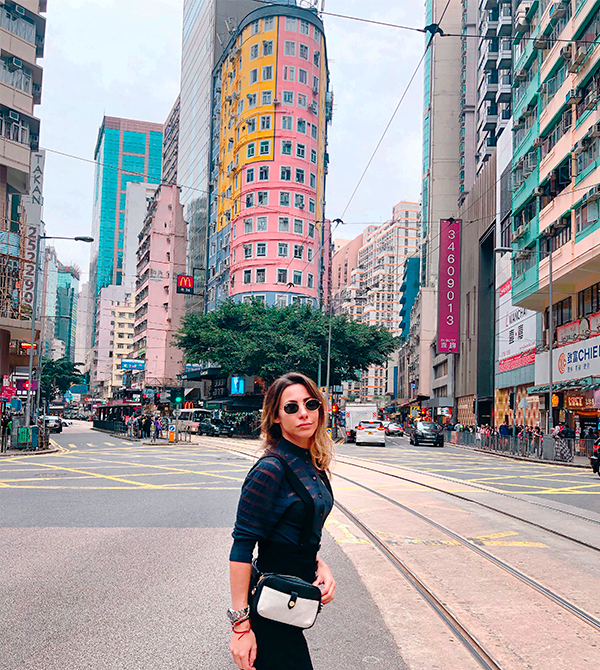 Staying Active
Save your money on that visitor pass at the gym. Dani says it's easy to stay fit in Hong Kong simply by just walking around. "It's easy to be fit here with thousands of steps and uphill walking paths. HK is among the most walkable cities in the world, I compare it to NYC, Tokyo, Milan or Paris. Sometimes I walk for hours without realizing it."
Mid to Central is a great option for getting your first look at the city and exercising at the same time. You can walk uphill to The Peak, and while it's pretty touristy, it happens to have one of the best views of the island.
If you're a fan of hiking, Dani tells us Dragon's Back is "considered among the best hikes to enjoy a beautiful view over the bay and crystal clear water when the sun shines." Take a day trip to The Big Buddha in Lantau Island for some fun hiking there as well.  
If you'd rather stick with the classes though, Hong Kong has plenty of great Yoga and Pilates studios as well.
Where To Meet People
Hong Kong offers plenty of diversity, culture, and of course, cool people to meet. From rooftop house parties to weekend brunches or simply walking down the street. Dani says "connecting with people and exchanging fascinating experiences is part of the local lifestyle."
Some up and coming areas to check out are Wan Chai, which features clubs and eateries. Ophelia, which is located in Wan Chai, is a "lavish and exotic" cocktail bar that also hosts performances. Le Boudoir is another spot worth visiting. It might be a little more difficult to spot, but Dani says once you're in it's "incredibly charming" with both European and Asian styles.
For rooftop views, head to the Woolloomooloo neighborhood. Seeva is a good bar for the happy-hour crowd, and Portico at Spiga is one of Dani's favorite outdoor spots with its relaxed ambiance.
Where To Get the Best Food
When it comes to food, Hong Kong has something for every taste bud. Cantonese, Sichuanese, Japanese, French, and Italian are just some of the types of cuisines you can get here. 
Restaurants for any food mood you're in:
Hutong Eat is located on the other side of the island in Kowloon. This place is a fantastic option for a "stunning" view and dim sum dinner.
If you're in the mood for Italian, Osteria Marzia is restaurant inspired by the colorful and diverse cuisine of the country's scenic seaside regions.
Talk about a host with the most at this next food spot. If you head to Ho Lee Fook, you'll be welcomed at the entrance by Chinse lucky cats (also known as Maneki-Neko). "This funky Chinese kitchen is inspired by old-school Hong Kong cha chaan tengs and the spirit of late-night Chinatown hangouts in 1960's New York."
MAMA SAN by Will Meyrick features Asian flavors and creative cocktails, while Kiku San specializes in dim sums and sushi and offers a more casual environment.
Speaking of dim sum, Duddell's (都爹利會館) is great for a dim sum brunch. This restaurant is also part of an art gallery, which offers guests traditional food with a contemporary twist.
Mott 32 is definitely worth visiting for some yummy Cantonese dishes.
Teakha is a nice option for breakfast, and if you're a fan of avocado toast, you'll find it here. Dani adds that it feels both home-like and relaxing.
Cafes and Tea Rooms
With all that exploring you might need to recharge with some caffeine. The Cupping Room has great roasted coffee and cappuccinos and can be found around in different places throughout the city.  
Yum Cha is a popular spot among Instagrammers for its creative dim sum menu with pig-shaped bao. Who doesn't love a meal picture right?
Dani's also a fan of the Honolulu Coffee Shop, which is a traditional coffee shop that also has an "old school chaan teng style." Her menu recommendation here is ordering their egg tarts smoothly filled with custard. "A favorite local delicatessen is steam ginger milk pudding."
Lodging
There are several awesome luxury hotels you can choose from for your stay in Hong Kong. One of them is the Mandarin Oriental Hotel, which has stunning views of Victoria Harbour and the city's surroundings.
The Ritz-Carlton and The Four Seasons are also two staples synonymous with luxury stays.
Another spot where Dani says she enjoyed her experience was The Fleming. The hotel features rooms in a "classic style inspired by Hong Kong's iconic cross-harbor ferries and a design-lover's dream!"
First Time Surprises
Visiting a place for the first time, you're bound to find some unexpected surprises along the way. I was curious what surprised Dani the most when she visited Hong Kong for the very first time. 2010 marked her first visit to the city. She says she was surprised by the perfect blend of the Chinese and Western influence, adding "the co-existent cultures reflect on the daily lifestyle in HK and it is so fascinating.
She also spoke on the energy of Hong Kong. "The condensed space and the international community contribute to keeping high the hustle and bustle of the big cities."
Get in, We're Going Shopping
Obviously, another fun part of travel is all the fabulous shopping. From local markets to quirky boutiques, there's a lot of opportunities to find cool items you can't get back home. Dani says Lane Crowford is her "absolute first choice for shopping". She goes on to say that their stores create a great experience because of the wide variety of international designer brands. Items you can find include perfumes, candles, and accessories. She also says these stores are where she can find items that are available on Net A Porter. Lane Crowford locations are found throughout the city and on the Kowloon side.
If you're looking for furniture or home decor, Dani suggests taking a 20-minute cab ride toward the south at Horizon Plaza. Here you'll find an old warehouse that is home to 22 floors of options. "Be ready to spend half-day there", she adds.
As mentioned, markets are also popular places travelers want to frequent. In Hong Kong, there's the night market in Kolowoon side. Dani says the night market is an interesting place for both photos and street food.
Shopping malls are also very popular in Asia, with Hong Kong offering plenty of them for shoppers, including IFC and Landmark.
Equipment and Editing
Dani's equipment to create content ranges from simple to more high tech and professional. Along with an iPhone X, she uses a Nikon D750 and SJ drone. For nature shots, she likes to use the GoPro Hero.
A lot of our favorite content creators like to use Lightroom for editing their pictures. That being said, did you know Lightroom is also available as a mobile app? That's how Dani accesses it for her picture editing. She also uses Unfold to help her create inspiring stories and UNUM enables her to use storytelling on her Instagram account with consistent palettes and tones.
Be sure to catch Dani in Hong Kong and around the world by following her on Instagram at @explorewith_dani
Loving our travel adventures? Read more of them here.