You know we can't stay away from the locals view on things. Who doesn't love hearing about what really goes down in these popular destinations when tourists aren't around? We got the low-down from content creator and mother of Andrea's Travels, Andrea Mayfield. Read on to find out international travel tips for visiting Croatia.
Any cool spots?
The small country of Croatia surprisingly has a lot of activities as well as sights to offer. In Dubrovnik, the opportunities are endless. The old town walls offer some of the most spectacular views of the city, not to mention the crystal blue Adriatic sea. You can get lost wandering around the many charmingly rustic alleys in the old town. Andrea's favorite activity in Dubrovnik is watching the sunset from Mt. Srd. It's directly above the old fortified city which offers plenty of aerial views. Sunset might be your best bet, Andrea says, "the pink and orange tones reflecting off of the old town are simply breathtaking."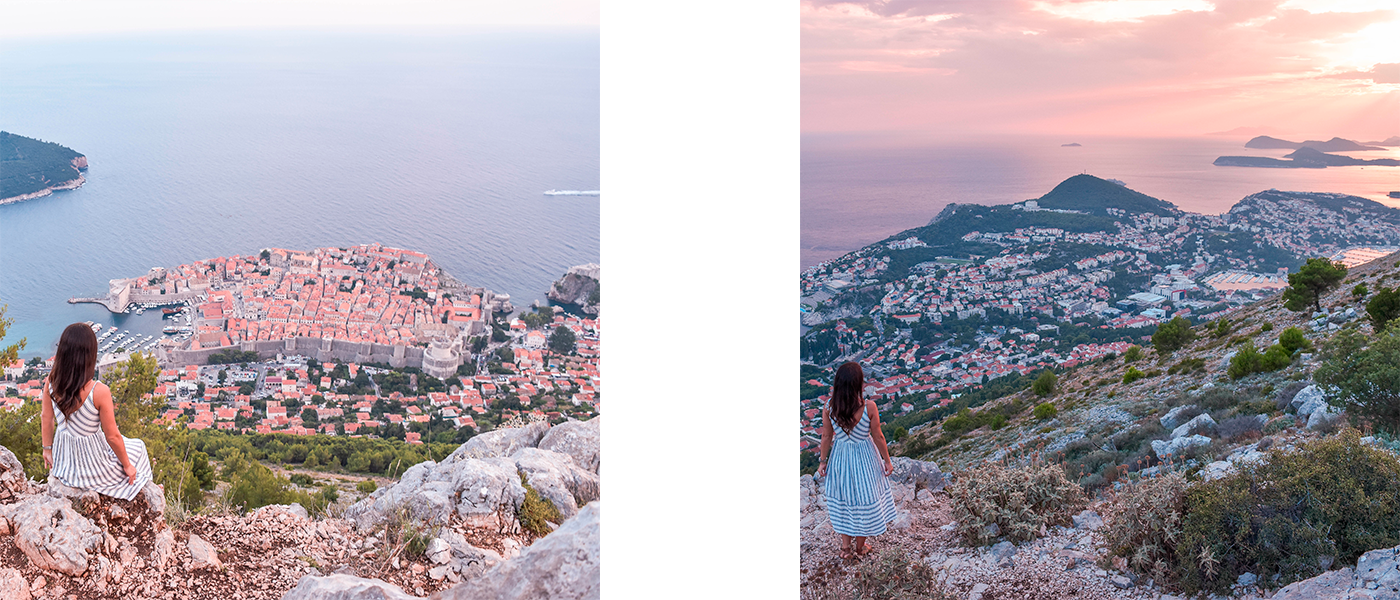 Zadar is the home of the sea organ and the salutation to the sun. You might be asking what those are, let me explain. The sea organ plays will play music according to the rhythm of the sea waves. The Salutation of the Sun is a monument dedicated to well, the sun.
Split is home to Diocletian's palace, a residence of the Roman Emperor Diocletian. The Palace happens to be a filming location for Game of Thrones. There are several themed tours offered in both Split and Dubrovnik.
Of course, no trip to Croatia is complete without visiting some National Parks. Two of Andrea's favorite are Plitvice Lakes and Krka. Plitvice lakes is located about 2 hours from the capital city Zagreb. There are 16 lakes in Plitvice National Park that change from green to blue. The park is great for hiking, you could easily spend an entire day there. Krka National Park is about 2 hours from Split. There are several waterfalls, rivers, and lakes throughout the park. The park is quite big so you'll need more than one day here, Andrea tells us.
Did you spot any cool architecture?
Andrea told us, "Dubrovnik has my favorite architecture of any place I have visited." It is a mixture of gothic, baroque, and medieval architecture. The quaint streets and alleys, ornate cathedrals, and detailed bridges are what fascinate her the most. Diocletian's Palace is another example being built between 295 and 305 CE (AD). The palace has the typical characteristics you would find in old Roman architecture. A domed ceiling, finely detailed doors, and archways, and columns, columns, and more columns! Andrea's final words about the palace, "I definitely recommend spending an early morning exploring the palace and taking in all of the lovely details."

Best way to stay fit and active?
Most of Croatia is very walkable so it's easy to stay fit just by walking from one place to the other. Andrea says, "It's a great exercise, all while exploring the hidden little gems that Dubrovnik has to offer." Since most Croatian towns on the coast, jogging along the beach strip is also a great way to stay active. In the capital city, Zagreb, there are an endless amount of parks for strolling or jogging.

Best place to meet other cool people?
Croatia and most of the Balkan countries have a very serious café and coffee culture. So if you ask what they're favorite drink is, the answer is coffee. Croatians are known for their friendliness and willingness to strike up a conversation with any stranger. Andrea is no different, "I cannot tell you how many times I was sitting at a café with my family and began telling my life story to the waiter or waitress!"
Stradun street in Dubrovnik is the main strip. There are rows after rows of cafes on the strip, bustling with locals and tourists. This is a great spot to sit, sip on a good cup of kava, and befriend the locals. Andrea tells us about a popular street in Zagreb, called Tkalciceva Ulica, that is lined with restaurants and cafes. "A lot of locals actually come here to hang out with their friends. You can restaurant or café hop and meet a lot of friendly Croatians."
Where do we go to get a bite to eat?
Andrea's all-time favorite restaurant is in Dubrovnik, called the Konoba Dubrava. It's on the way to Mt. Srd so there's no reason NOT to stop here. This restaurant serves authentic Croatian food that every traveler should experience. Everything from lamb on a stick, to other popular Croatian dishes such as cevapi, is served here. "The food is delicious and the service, as always, is exceptional. The restaurant has a very rustic and Balkan vibe, and I can honestly say that it is an experience everyone should have!"
The Panorama restaurant is another one. Located at the top of Mt. Srd, it's also a great place to see above the city. The restaurant offers a variety of dishes that are not as traditional as the ones served atKonoba Dubrava. The portion sizes are much smaller than other restaurants in Dubrovnik, but the view is worth it. Andrea has eaten here many times and has never had a bad experience. She reports, "the restaurant is very photo worthy!"
Where do you recommend us to stay?
Andrea recommends staying at the Dubrovnik Palace and Hotel Excelsior. Dubrovnik Palace is a lovely seafront hotel on the other side of Dubrovnik. There is a bus stop in front of the hotel that will take you directly into town. It's in a very convenient and quiet part of Dubrovnik. Each room has it's own seafront view and balcony to sit and have your morning cup of kava. Hotel Excelsior, on the other hand, is closer to the old town and has the best view of the walled city.
What equipment do you use to create your content?
Andrea is currently using a Nikon D 500 camera and mainly use a Nikon 18-140 mm lens. She has a wide angle Nikon 10-20 mm lens that she uses, but her 18-140 mm lens is her go-to.
What apps or software do you use to edit?
Like most influencers, Andrea uses Adobe Lightroom but occasionally uses Photoshop. "I love to learn new editing techniques and continue to improve my editing. I also love the creativity of Photoshop and adding special touches to my photos."
To read more of Andrea's explorations visit her website and follow her Instagram.
For more international travel tips check out our feature on Iceland.