While many content creators and influencers focus on travel, Vivien and Aaron with @thedharmatrails go a step further in creating their own specific niche in the market. Their focus is on eco-travel and a sustainable lifestyle. These are important topics for many travelers, which is why having a genuine voice to help provide eco-travel guides and international travel tips that fit your values is a huge benefit. 
The Dharma Trails duo recently traveled to Jamaica. For their trip, the focus wasn't on sipping strawberry daiquiris and lounging in chairs, but rather avoiding the traditional resort holiday and driving around the island for a month. By doing so, they were able to gain a more authentic experience of this tropical paradise and iconic island.
What To See And Do
If you're looking for art in Jamaica, look no further than the country's staple of Reggae music and culture. Vivien and Aaron tell us the reds, yellows, and greens that symbolize Reggae are found all over the island. "Driving through small towns you see the colors and Reggae symbols painted on a lot of buildings."
Obviously, though, the focus of Reggae is not just street art but the music itself. Getting to experience the live thing in the place where it comes from is an incredible experience. Vivien and Aaron went to a few live performances in Kingston. While it may not be the same as what was playing in the days of Bob Marley, they say, "The music was loud, and the crowd knew all the words. It was really a powerful and mesmerizing thing to see."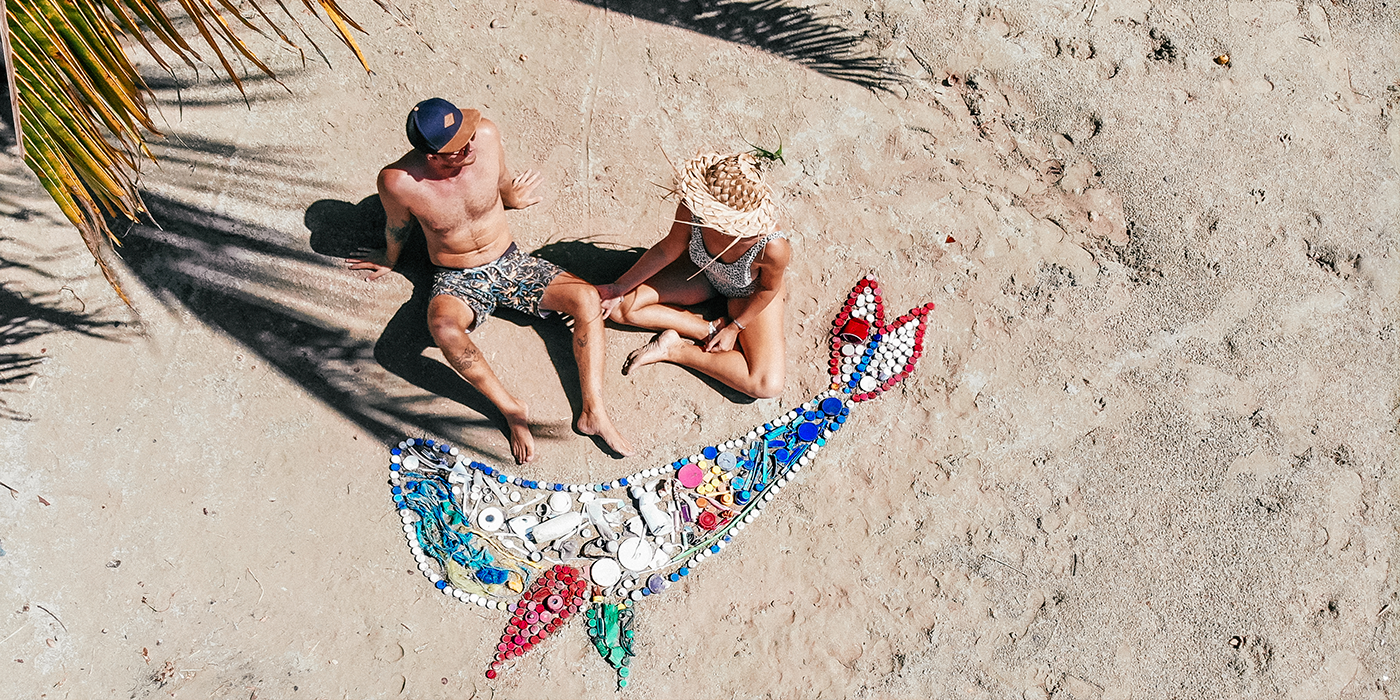 Staying Active
When you're on an island in the Caribbean, take advantage of the scenery around you – A.K.A. the beautiful ocean! Vivien and Aaron spent a lot of time in the water, which was their main source of exercise. The best part is that swimming doesn't even feel like a workout either. You're having fun and staying active. What's not to love? You can also mix it up like Vivien and Aaron did by including snorkelling and surfing in your trip. For surfing specifically, you can head to Boston Bay, which is where our Jamaica travel guides went to several times.
It's not just the ocean either though. "Jamaica has some amazing rivers and waterfalls. We spent a lot of time climbing over rocks and diving into freshwater pools." These are all excellent ways to stay fit during your trip to Jamaica while still exploring what this beautiful island has to offer.
So, what are their favorites?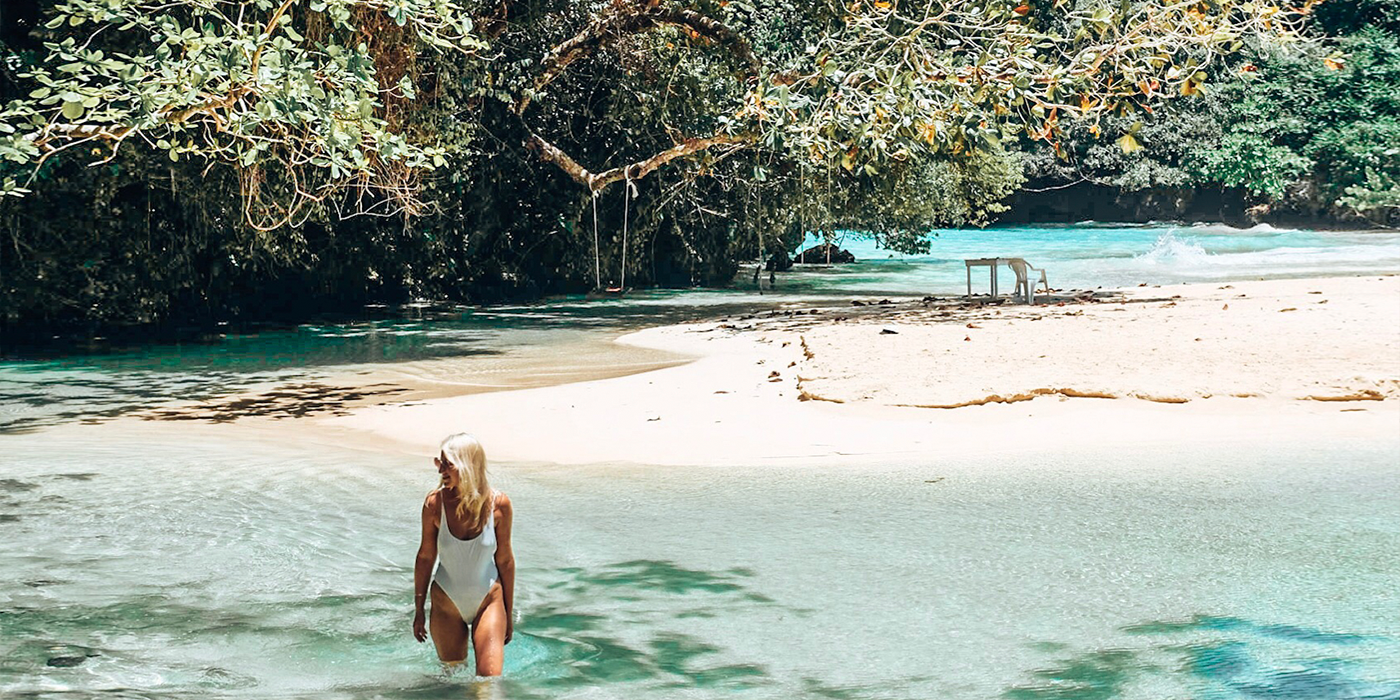 As far as beaches go, Frenchman's Cove was their top spot. It includes a small cove with a "crystal-clear river that meets the sea and a thick, lush jungle."
For their favorite waterfall in Jamaica, head to Reach Falls. Vivien and Aaron add that travelers should take the local guide before you get to the waterfall itself. "He takes you through some private properties to an area of rockpools. From there you hike up the river itself, stopping, swimming and jumping along the way."
Where To Meet Other People?
As mentioned earlier, Boston Bay is Vivien and Aaron's favorite beach, but it also happens to be a great area to meet people as well. It features an "interesting melting pot of characters" and is "mostly made up of a young, local surf scene". Now, if you're not a young, hip surfer type, don't fret. They add that there were also other locals who enjoyed hanging out there, as well as some foreigners.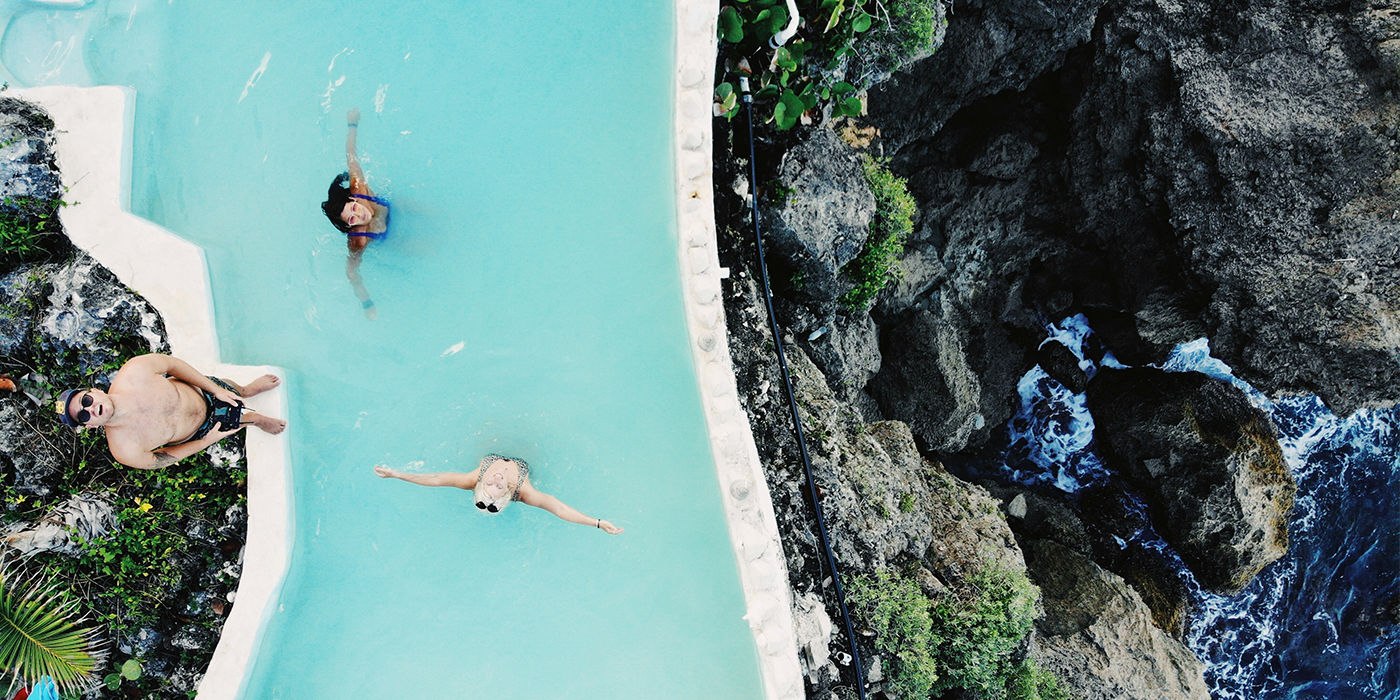 Since food is always a great way to bring people together, you can also take advantage of Boston Bay's famous Jerk Chicken.
Speaking of food…
Best Eats
As vegetarians, Vivien and Aaron know all too well the dilemma of traveling to a country where they eat a lot of chicken, yet you still want to experience the local dishes.
If you're open to chicken – or just love it so much already – check out Scotchies. This barbeque spot smokes up their chicken on pimiento wood, which gives it a unique flavor. They also add a Jerk spice and peppers.
For healthier food options, The Rockhouse in Negril was one of Vivien and Aaron's favorite restaurants in Jamaica. "It served amazing, fresh food (from their garden) and local dishes, with amazing views looking over a cliff into the blue Caribbean Sea." The Rockhouse also features excellent service and is "definitely a photo worthy location."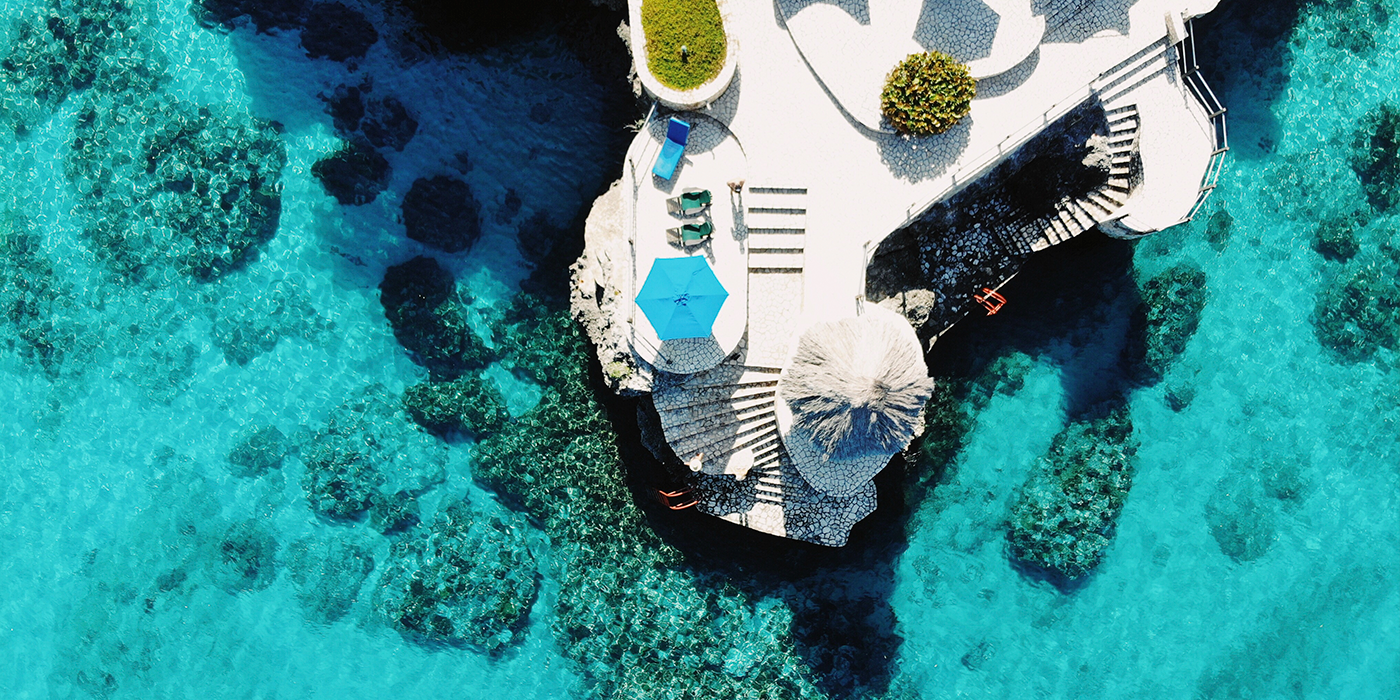 Where To Stay
Speaking of Rockhouse, the Rockhouse Hotel is a luxury eco-resort that's located on the cliffs of Negril. It also happens to be Vivien and Aaron's favorite place that they stayed at in Jamaica. "The villas are built from rock and have thatched roofs. While they are relatively simple in design they are done in a stylistically beautiful way."
Even if you don't plan on staying here though, they say it's still worth a visit. Plus, you don't need to be a guest if you want to dine at the restaurant.
As mentioned, the resort is very eco-friendly. They have their own organic vegetable garden, while also maintaining a high standard of sustainability like saving energy and using solar power.
Now, if that wasn't enough of an incentive, well then check this out: the resort is also helping the local community as well in the form of children's education. "The Rockhouse Foundation is a charity that has generated USD$4 Million in donations. They have rebuilt schools and a library and provide ongoing support to the local children."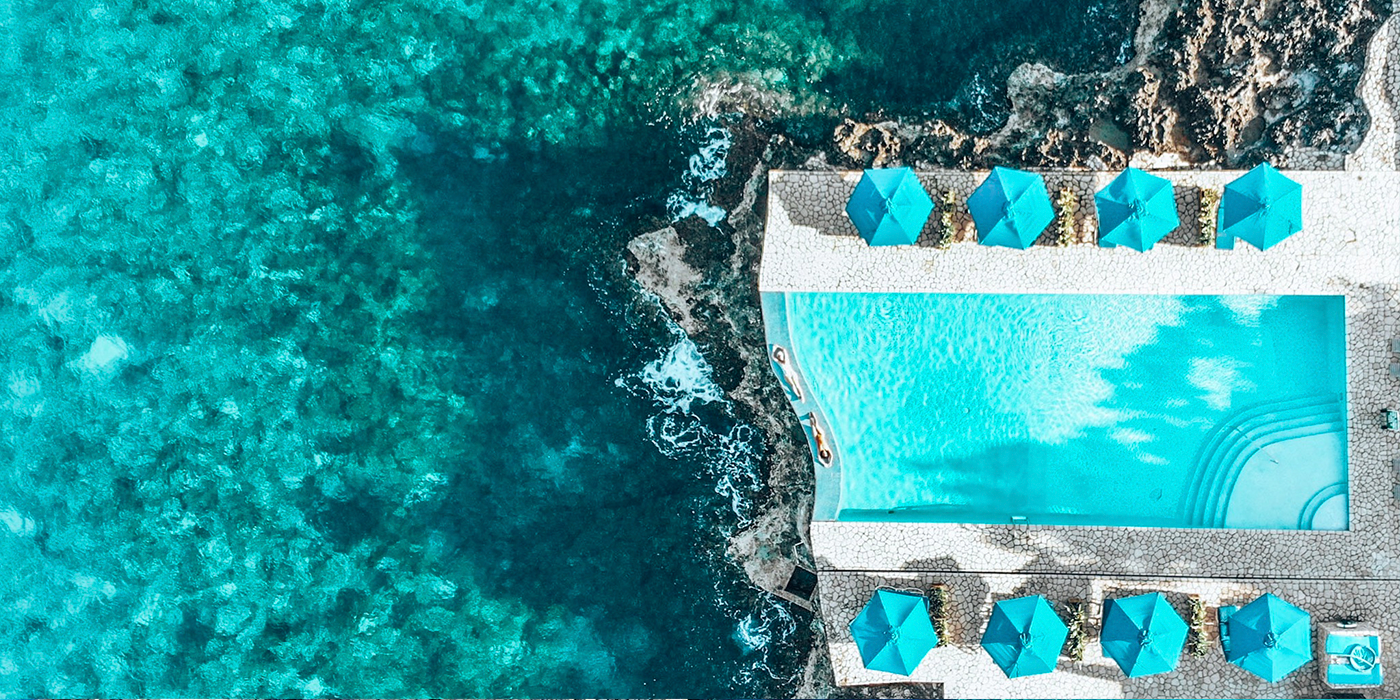 Equipment & Editing
Vivien and Aaron keep their equipment a little lighter, since their focus is more on photography and blogging, as opposed to video content. They both carry 13" MacBook Pros. Other equipment they use include the Mavic Air drone, GoPro Hero 7 Black (with Dome), Lumix LX100 camera, iPhone XR, and the Manfrotto Tripod.
With a focus on photography, editing great photos is definitely a priority. Vivien and Aaron use Lightroom, and while they do have a few presets they use, they say you usually still have to adjust the contrast or lighting a little bit. They also avoid heavily editing photos with photoshop.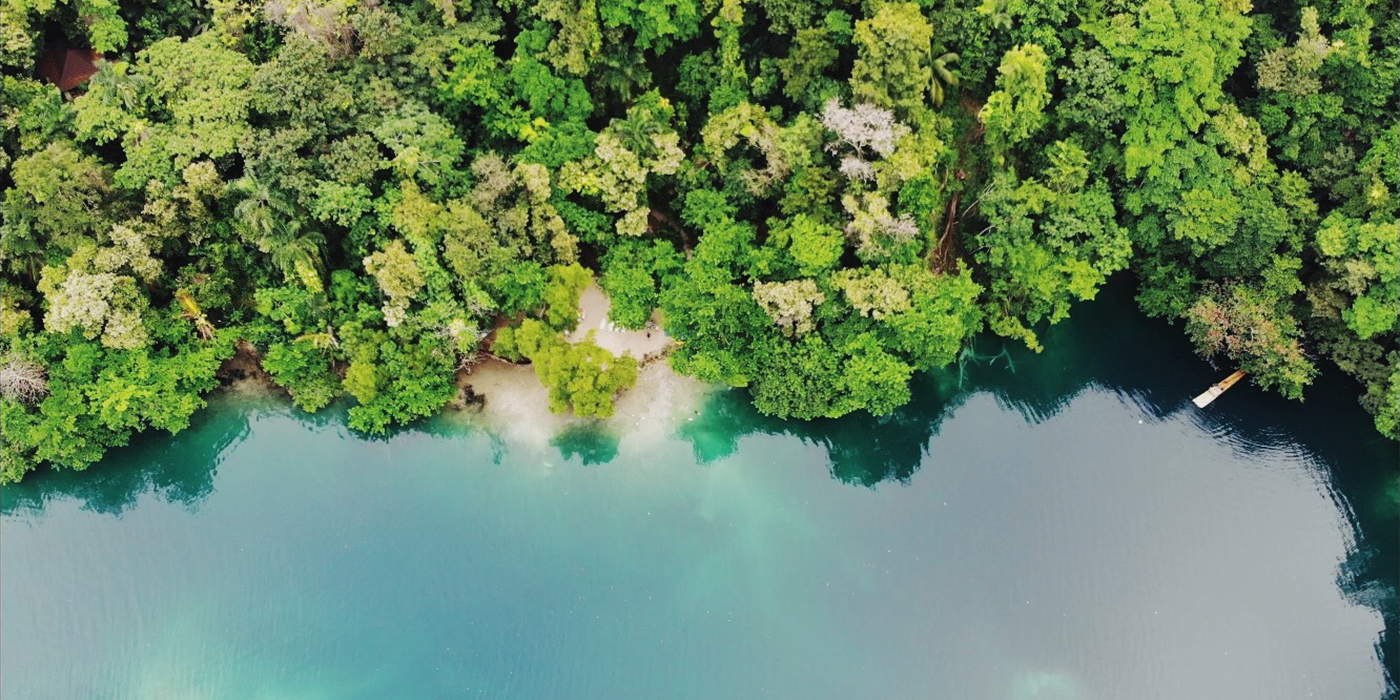 For more info from Vivien and Aaron, head to their website at thedharmatrails.com. That's where you can catch great articles on eco-travel and a sustainable lifestyle.
Jamaica not enough? Click here to read about other destinations our travel influencers have visited.