The Swiss Alps are great and all but Grindelwald is the new place to be. A village set in Switzerland's Bernese Alps is one place to add to your travel repertoire. Mountain climbers fall in love with the snowy caps of Eiger Mountain while nature lovers pull out their cameras to capture the waterfalls and limestone walls of Gletcherschlucht. Beril Gutierrez recently traveled here and has been kind enough to let us in. 
Must Do Activities
A helicopter ride around the Alps to Jungfraujoch, four-thousand meters above sea level, is one of the first things Beril did on this trip. What a way to kick off a trip. The view from above can't be matched. The Alps seem endless and you can truly appreciate their enormous size. At the end of the ride, you arrive at Jungfraujoch, where you are introduced to The Top of Europe. You are now 3,466 meters above sea level. Beril describes it as a "wonderland of ice, snow, and rock."  From viewing platforms, you can admire the Aletsch Glacier or visit the Ice Palace. 
 
Staying Fit
The best way to be active in Switzerland is to be one with nature. Beril said she loves the outdoors and was able to cherish views while also burning calories. I think you can guess what Beril recommends next. While it's not the most popular sport in the country, it is a well-practiced sport. Yup, it's skiing. But you can't just ski anywhere, Beril recommends you got to First in Grindelwald. The summit offers other activities like night sledding, snowshoeing, paragliding, and ice skating.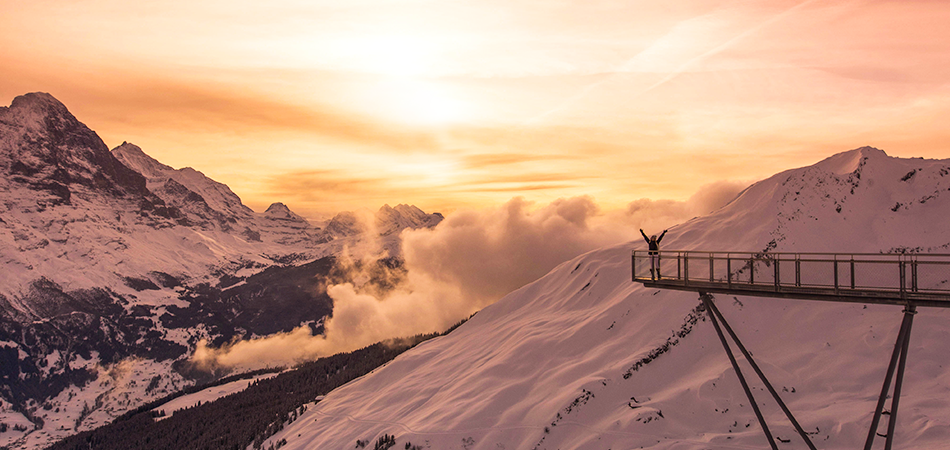 Recommended Eats
Hotel Glacier, a quaint hotel in Grindelwald has great food, awesome ambiance, and impeccable service. The interior is designed to look like the natural landscape of Switzerland with blue-tones and ice inspired lights. Large windows are utilized to open up the space and give guests a view of Eiger North Face. Their menu holds vegetarian, gluten-free and lactose-free options. Sustainability is big here, they want to preserve as natural as possible. They source their produce locally, have wood heating which uses wood scraps from sawmills and avoids plastic at all costs. Beril describes this safe haven as chic and cozy, with photo-worthy views on the terrace that faces the mountains.
 
Where To Rest
Victoria-Jungfrau Grand Hotel & Spa in Interlaken is the place to stay. Although they're known for their 5500 square meter spa, they also have unbeatable views of Lake Thun and Lake Brienz. The hotel is 150 years old and shows its history through fine furnishings with a twist of a classic style, proving it's capable of being a Switzerland landmark. The spa ranked as one of the most beautiful in Switzerland. They offer a range of relaxation options from a sauna complex, steam baths, varied massage options, beauty treatments, and a large gym with a pool to take a refreshing swim. Beril makes it a point to mention that the service is, "genuine, heartfelt hospitality."
To find more about Beril visit her Instagram.