"Havana Ooh-na-na." You know the song, but do you know the place? The island of Cuba evokes images of a place with great beauty and culture, all against the backdrop of controversial politics. Of course, for American travelers, Cuba is something of a mystery. Despite this, many around the world have been able to experience this iconic place first-hand.
Nicola Easterby AKA @polkadotpassport on Instagram, is the photographer and blogger behind Polkadot Passport. She shares with us some great Cuba travel tips that will give you an amazing experience if and when you visit. 
What To Do
Cuba is famous for its sultry and vibrant Latin rhythms. In fact, one of the most famous groups to come out of there is the Buena Vista Social Club. In Havana, Nicola says you can experience traditional Cuban music by checking out the Buena Vista Social Club live show. "The show entails a large band of talented musicians and singers performing traditional Cuban music, and by the end of the show, the whole audience is up dancing!" Sounds like our kind of party! 
Must-See Art
Cuba is becoming a place with an emerging art scene, specifically Havana. On the outskirts of the city, there is a place called Fusterlandia. What was once an impoverished suburb, the area is now a "kaleidoscopic work of art," that covers homes, walls, and gates. The creator and artist of these beautiful works of art is José Fuster. Someone who originally jazzed up his own home to bring some life to the exterior, it quickly caught on with the rest of the neigbhorhood. "His neighbours began to request he do the same to theirs, and it eventually turned the entire neighborhood into a work of art. Reminiscent of the works of Gaudi and Picasso, it garnered international renown."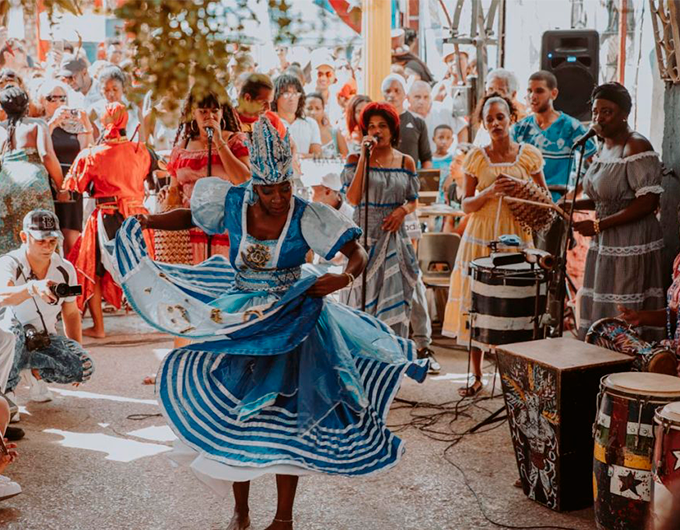 How To Stay Active
The best way to stay active in Cuba? Get out and explore the beautiful landscapes! "Vinales and Trinidad and two places particularly known for great hiking and biking trails."

Best Place To Eat
In Havana, Nicola says you'll want to head to O'Reiley's 304. She adds it was the best food she had during her trip to Cuba. "This hole-in-the-wall eatery is tiny but is always buzzing with people. Its cozy seating arrangement is worth bearing for the quality of food they serve!" Some good news for travelers is that this place also offers great vegetarian options – a rarity in Cuba. Those include a pumpkin cream soup with blue cheese and yummy seasonal veggie tacos. Make sure to grab your camera too, since the drinks here are very photo-worthy. 

Where To Stay
During her trip, Nicola stayed in what's called Casa Particulars. She describes them as the Cuban version of Airbnb. She adds, "Although the décor in each place was very basic, they were clean, comfortable, and most importantly, gave us a taste of local living in Cuba. Every morning we were served a fantastic breakfast spread by our host including fresh juices, fruits, eggs, bread and coffee."


Equipment and Editing Tips & Tricks
Nicola uses a combination of items including the Canon 6D Mark II, Canon 24-70mm f/2.8ii, GoPro Hero Black 7, DJI Mavic Pro, ONA Camps Bay Backpack, and the ONA Bowery Bag. 
For photo editing, Nicola uses Lightroom and Photoshop. Both of those can be found in the Adobe Creative Cloud Suite. 
For more on Nicola's Cuba travel tips, you can visit her official blog post on the 15 Best Things To In Cuba here: polkadotpassport.com/best-things-to-do-in-cuba/
Check out our travel series, here. You would be a fool not to.