Artist and nature lover Day Schildkret opened up to ARTRPRNR about the creative process behind his earth art installations, Morning Altars. I'd say he puts my old-school playing-in-the-dirt to shame! We got some great insight into how and where he gets his inspiration, and what he learns about the unconventional way the Earth plays into his installations.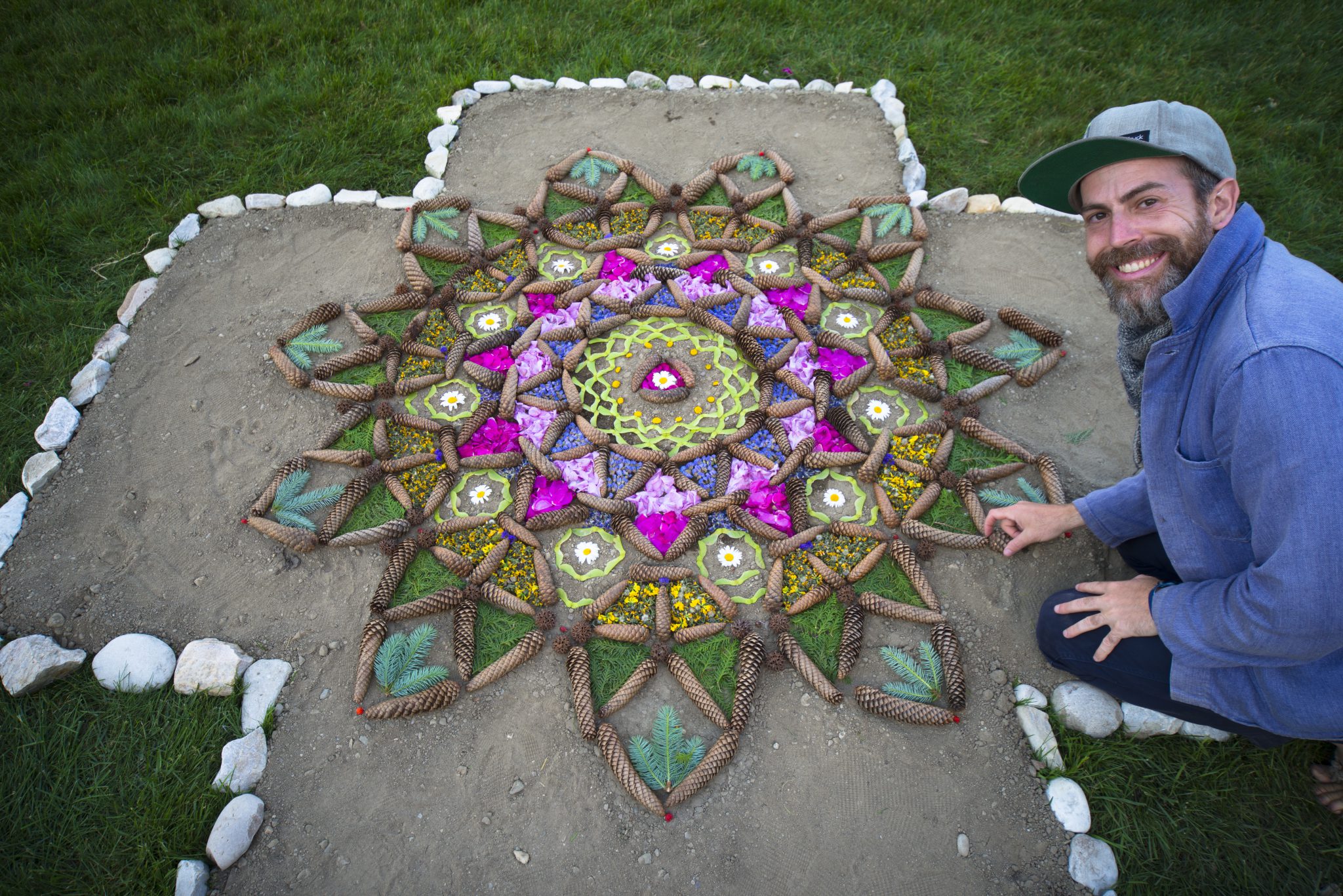 What was the moment you decided to create earth art?
Well, I have been doing this since I was a child. I was the kid that would run outside on my driveway after a rainstorm and save all the displaced worms. I would dig little holes in the ground and help them get back in. But it wasn't enough for me to just assist in their homecoming — I also decorated each hold with berries and twigs until there was a constellation of adorned worm holes on my front lawn. Since then, I have always been drawn to making beauty outside in nature. Andy Goldsworthy has been a major influence in my life, an artist who is fascinated with change and impermanence and creating on the edge.
But it was about 5 years ago, after a major relationship breakup that totally wrecked me, that I began creating earth art as a way to process my broken heart. I began to create Morning Altars every morning because it took me out of my anxious mind, brought me back into nature, let my imagination create patterns and let me practice letting my art go. The fact that this practice began as a way to work with my grief really taught me how to turn my losses into beauty.
Do you only use the elements you found "in the woods"?
I don't always create in the woods. Sometimes I'm at the beach or in the desert or in the city. I love creating with things that have fallen naturally, but I also sometimes cut and tear. It's very rare that I use human-made elements because I'm really drawn to the greater-than-human world and all the incredible treasures it offers. When I host workshops, especially in cities, I have many participants who like to include in their Morning Altars human-made objects because they are so present in the natural world.
What has been the biggest challenge creating art in such an unconventional way?
After 8 hours on my hands and knees trying to arrange the leaves and berries and feathers in the most perfect symmetrical pattern and then the wind picks up and BAM. The entire piece is gone before I'm finished — I'd say that is the biggest challenge to creating my art. Really though, what's challenging about that I get to struggle with the way I want things to be and how things are. As an artist, I strive for perfection, vision, refinement and I do so in the natural world where nothing is alike. Everything is unique, nothing stays the same and everything is always changing. When I'm able to photograph a piece in a way that's almost symmetrical before the wind or heat or darkness gets it, that's a remarkable feat. But honestly, more often than not, many of my pieces are destroyed before I can get them the way I want them to look.
When you start working on a piece, do you have the idea in mind or does the process lead you?
Never. I always create my pieces AFTER I collect the elements. These pieces inspire me — their shapes, their colors, their textures. In a past career, I worked on Broadway and as a director, I would always be inspired by a particular actor's talent. They would inform the entire musical and the whole thing would come alive in my mind by seeing them in the roll. Similarly, once I find a leaf whose shape inspires me, the entire piece begins to come to life. So, even when I'm creating 30 foot pieces for a huge public gathering, I never plan it out in advanced which puts a lot of pressure on me. But it's also way more exciting and authentic that way.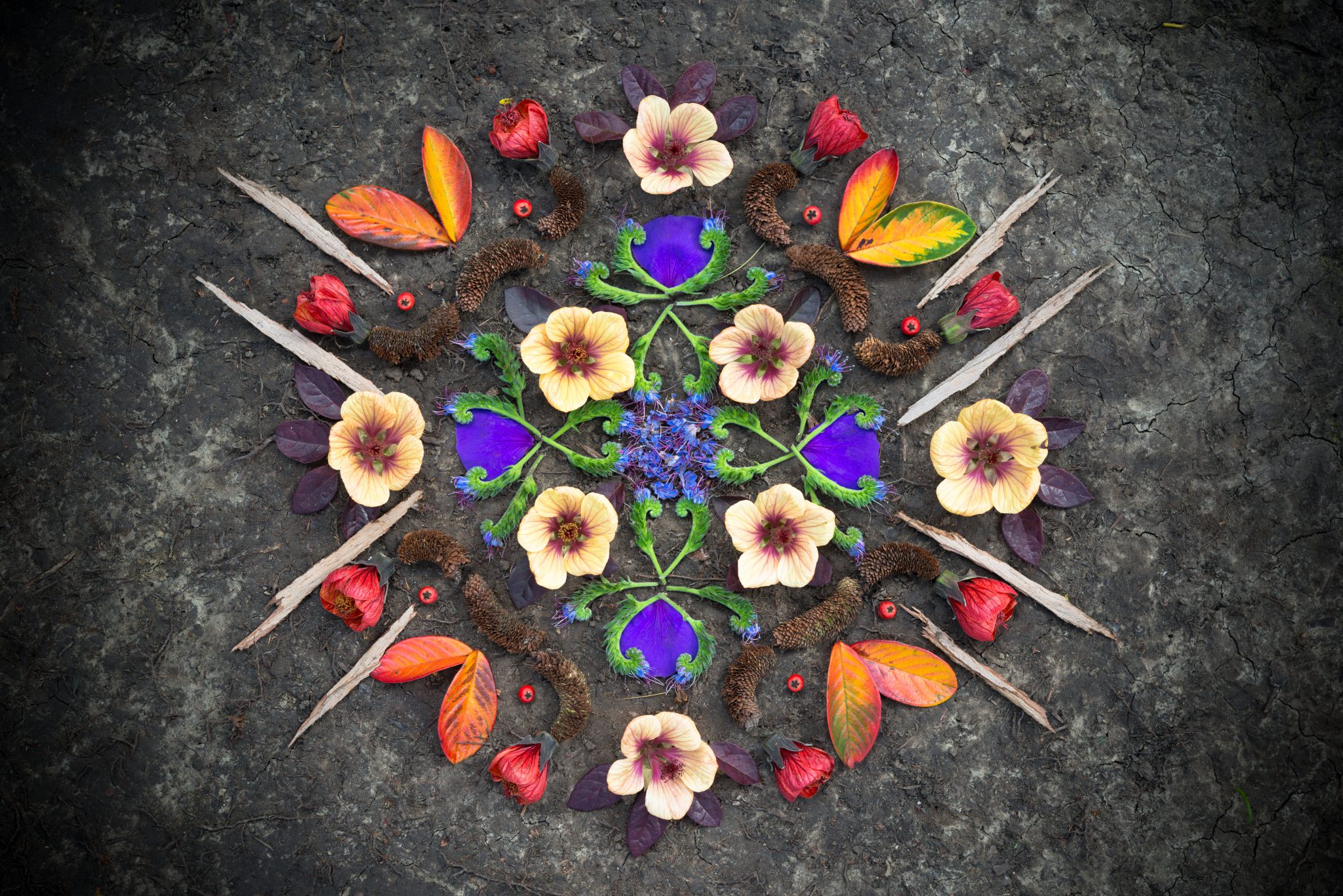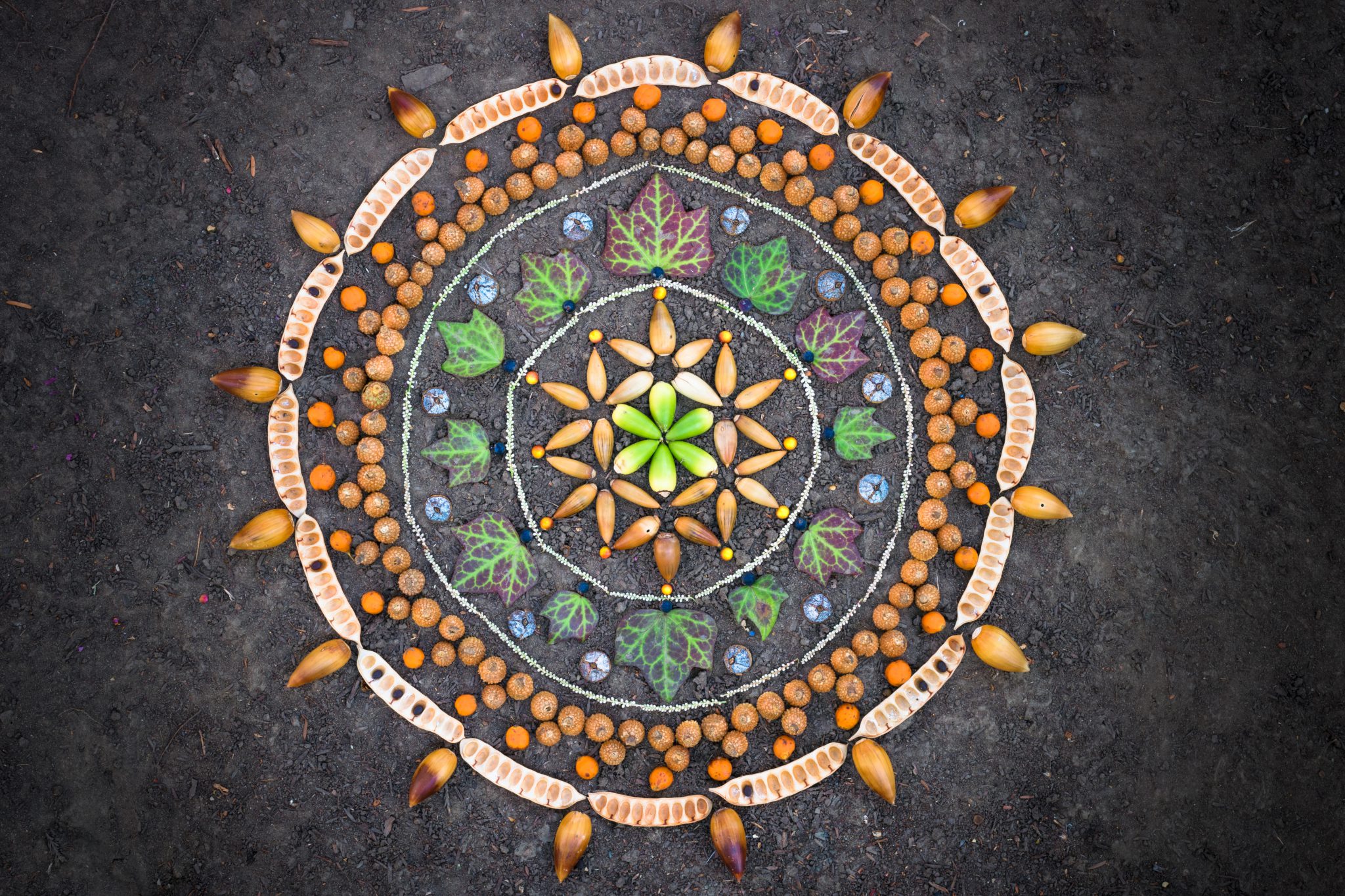 When do you feel most inspired and productive?
Easy. When I am alone in some expansive wilderness.
How do you think your Morning Altars can elevate humanity?
I'm not sure I would use the word "elevate" because I believe humans need to come back down to earth again. As modern humans, we are forgetting our humanity and where we come from. We are losing skills, qualities and attributes of being human that our ancestors have attained simply by being someplace for some time. In indigenous cultures all over the world, their language, their food, their clothing, their dances, their mythology are all informed by the landscape. The land spoke to the people and then the people spoke back to the land in its language. Those of us in the dominant culture of North America are severely disconnected from the earth and the land because most of us are not FROM here. This Morning Altars practice is a way of helping us modern humans to find a way back to nature through beauty, making art and creativity. The 7-steps I teach in my new book help explain the tangible practice of going outside, making beauty from nature and letting it go but the books also explains WHY this is crucial for us modern humans to practice this ritual as a way of connecting to nature, connecting to our innate creativity, to a mindfulness practice and to the skill of letting go.
How do you use social media?
Social media is like a river or a wind current for the seeds of my art. They carry photos of my Morning Altars all over the world and help to inspire people to go make their own. Over the years, I have received altars from people in England, Russia, Iran, Brazil, Australia — all making beautiful art out of the places they live and for so many heartfelt and gorgeous reasons: To honor an anniversary, to grieve the dead, to celebrate a birth, to let go of a job, and simply because they were feeling grateful that morning. I use social media to let this very private and person art practice that I make down by the creek to reach places on earth that would never ever see it and vice versa.
You are an educator. What do you teach your students?
Yes I am. I am a mentor to many people who want to understand how to better approach their own creative practice or craft and get their art out into the world. One of the teachings I try to imbue upon my students is that their talent or craft is something they've been entrusted with, meaning, it's something valuable that's been given to them. So, in what ways do they carry that gift? Do they walk around like they are holding something with enormous value or do they forget about it and leave it in their sock draw? I also speak to creativity being alive and like anything that's alive, it requires nourishment, shelter, care, rest. Our creative impulses require the same kind of care, which as an artist, that becomes our responsibility.
What do you enjoy most about being an educator?
 Actually, what I enjoy most is learning. So much of the time, my students are teaching and reminding me. Students and teachers are really the same thing. We are always learning and we are always teaching — even babies are like this. You can learn so much from a baby and suddenly they are YOUR teacher. So, what I love about teaching is how the learning is happening in all directions.
Can we see your work outside of the US?
 Actually a hotel/palace in Monaco just ordered a 4'x4' museum quality print of my art, so that's really exciting. We also hope to have the new book translated in many languages and I really hope to offer workshops in Japan and Latin America soon. Also, so much of my art in calendars, wood blocks and prints have been sent to people in Finland, Australia, Hong Kong and Peru. I love getting my art into the world like that.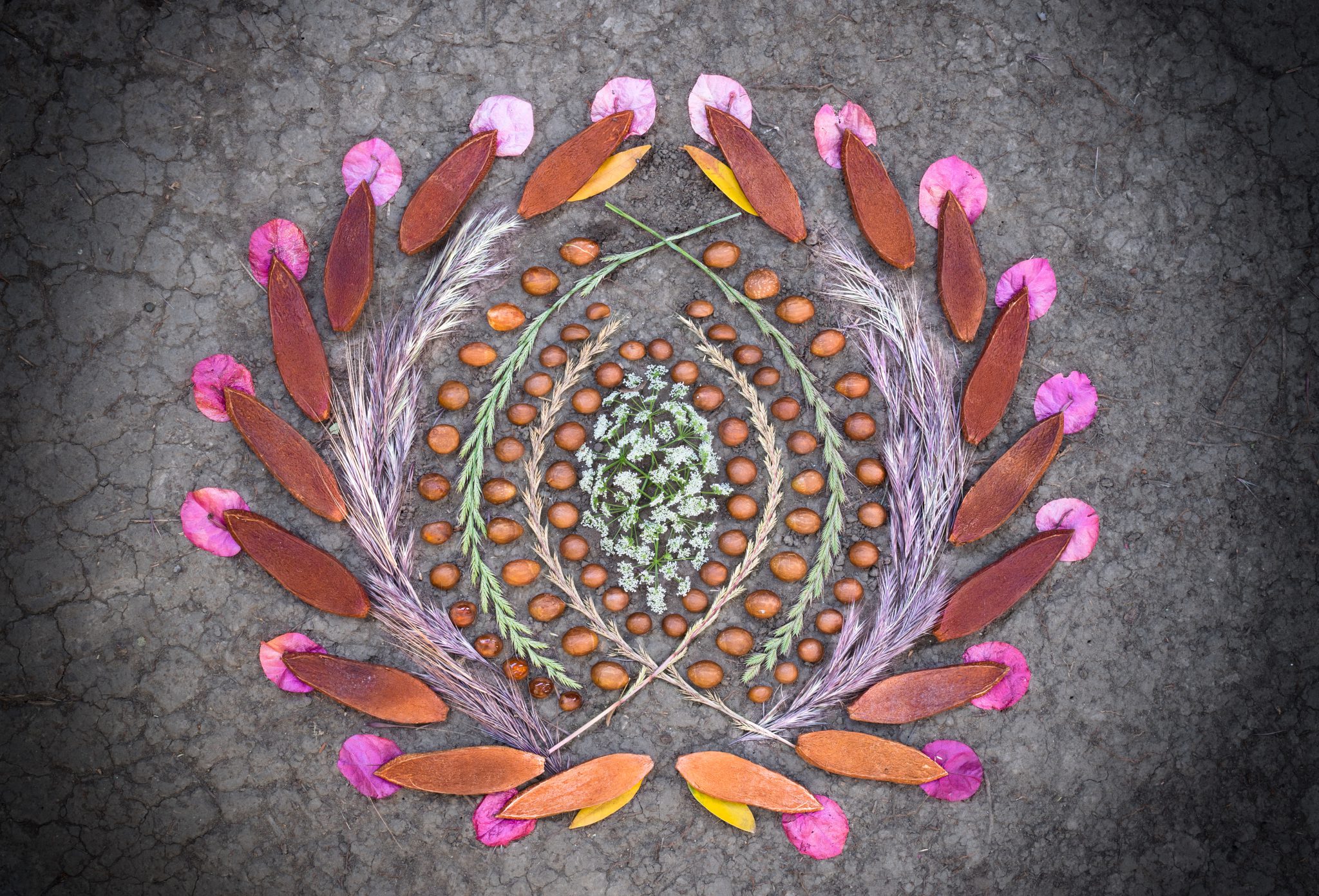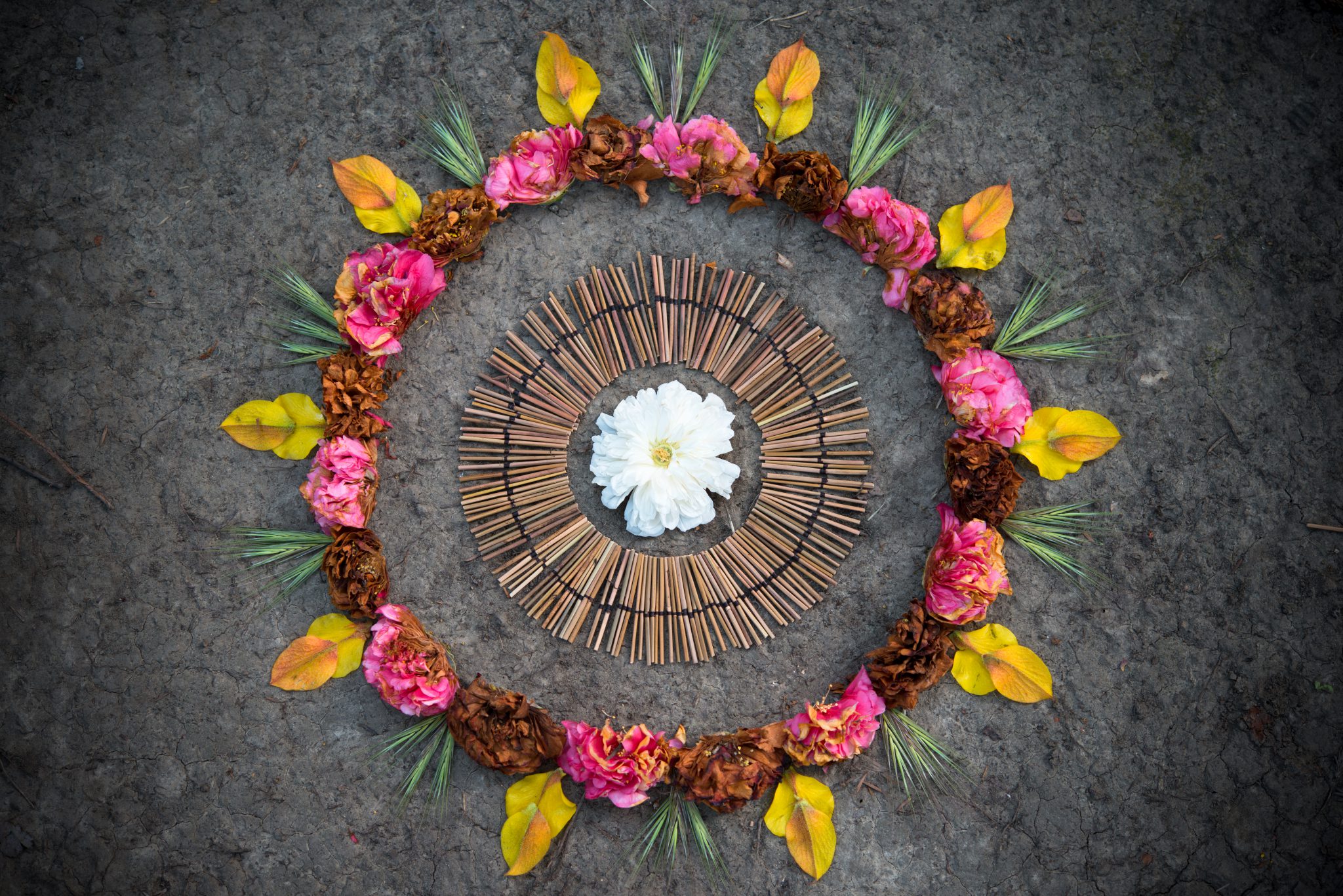 Tell us something about you we may find surprising.
 I won a car on the Price is Right last year 🙂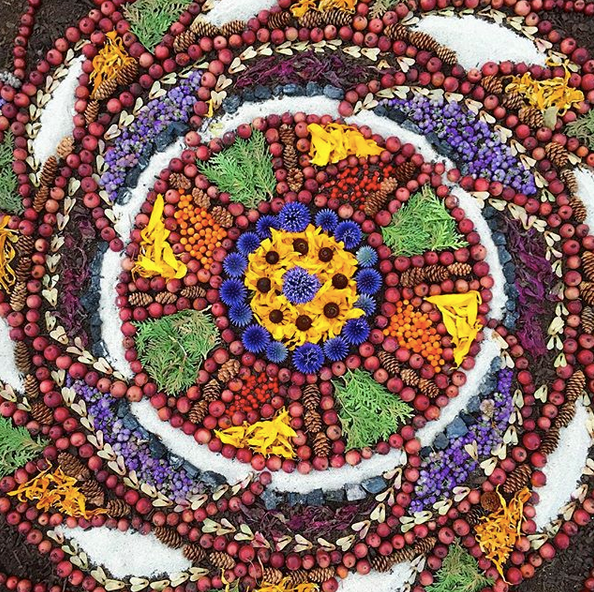 Follow Day's Instagram and check out his web site to find inner peace.
His new book Morning Altars: A 7-Step Practice to Nourish Your Spirit Through Nature, Art and Ritual comes out October 30th.