When it comes to international travel tips, checking in with our favorite content creators is the perfect way to make the most out of our vacations. How well do you know Slovenia? Well, fear not. Content creator Areesha Khan @littekhanswanderlust is here to provide you with the best of Slovenia travel. Read on for more on this fascinating country, including where to find the picturesque castle you'll definitely want to share on Instagram!
What To Do
One of the most exciting parts of travel is being able to indulge in your love of photography and to be able to share these incredible places with your friends, family, and social media followers. Luckily for us, Areesha says she is always on the lookout for those insta-worthy buildings and interesting photo spots.
In Ljubljana, the Triple Bridge offers a stunning view of multiple spots in town including the River Ljubljana, Old Town, the main square, market, and the pink Franciscan church. If you find yourself hungry, you can always hit up a food cart there for some corn and pretzels.
Speaking of the Franciscan church in Ljubljana, Areesha says the church's bright pink exterior is a "great spot" for Instagram photos.

Castles and Churches
Castles are an architectural and historic wonder that bring travelers from all over the world. Areesha says Ljubljana Castle was one of her favorite spots in Ljubljana and gives travelers "spectacular" views of the city. So, how do you get the best views? "To get the best views, go up the viewing tower within the castle." Since the tower is hidden within the castle grounds, if you find yourself having a tough time finding it, you can always ask for directions.
Another colorful building is the Cathedral of St. Nicholas, which is also in Ljubljana. Areesha says this "prominent yellow structure" is easy to find. She adds that the cathedral's massive bronze doors depict Slovenia's history, while the "intricate frescoes, gold leaf on the ceiling, and pipe organ" are not to be missed. Added bonus? Entrance to the Cathedral of St. Nicholas is free.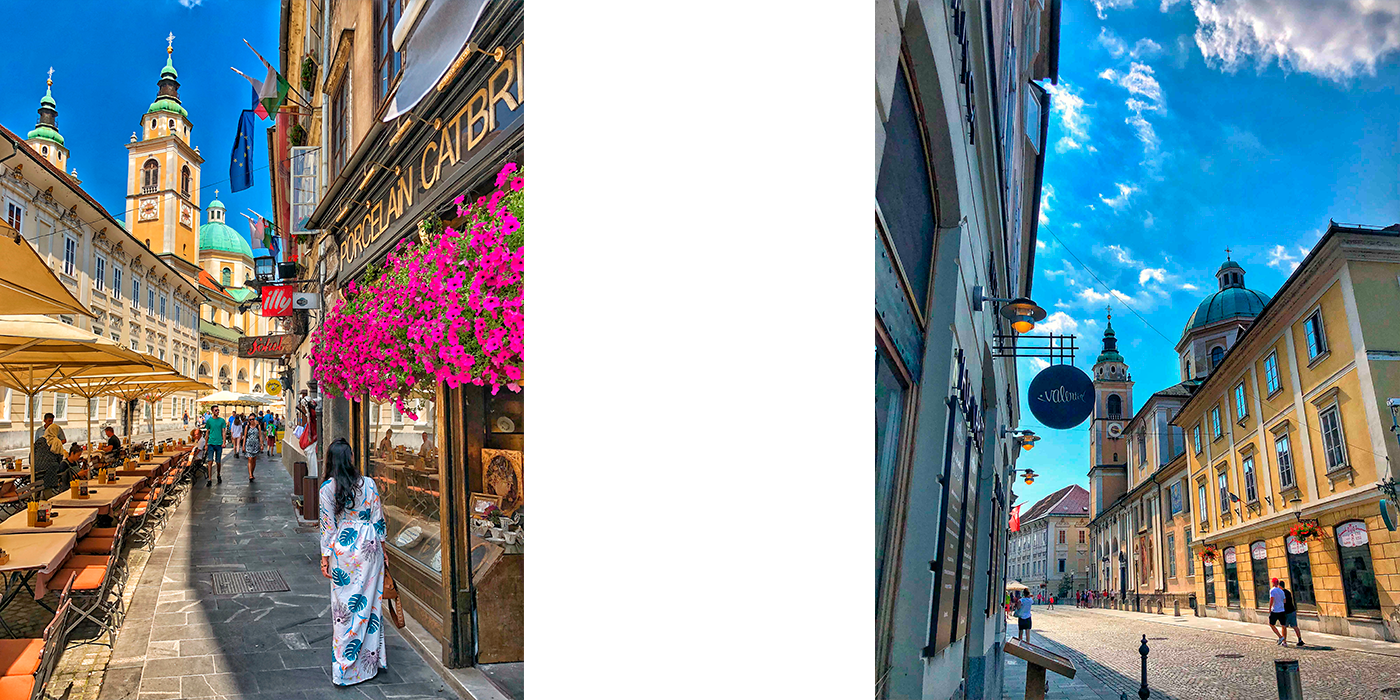 When you head over to Bled, Slovenia, you'll want to visit the lake there that share this town's namesake. Areesah says, "Lake Bled is probably enough to make you fall in love with that town!" However, her favorite part was visiting Bled Castle. This castle actually sits on top of a cliff in the middle of the lake. Sounds like a traveler's dream! While there might not be much going on from inside the castle, Areesha tells us it offers "jaw-dropping" views of Lake Bled. A heads up though: it is also pretty windy up there too, so don't plan on a great hair way – or at least wear a good hat!

Must-See Art
If it's art you love, then Areesha tells us it's a good idea to plan a visit to Metelkova. This is known as an "autonomous social and cultural center" in Ljubljana. This former site of the Slovenian army features graffiti, along with quirky, grungy sculptures made from recycled objects. Be sure to have your smart-phone with you though. Because there are no signs leading the way, you'll want to access Google Maps to help you get there. Despite its uninviting appearance, she says there are lots of interesting photo opportunities. Just make sure to limit your time there.

Staying Active
We here at ARTRPRNR did some digging on this one. Good news for us travelers: Trip Advisor provides a list of the 5 best health and fitness clubs in Slovenia, so you know there's no shortage of places to exercise. While they all look great for getting in a workout during your trip, the Pool Complex Gorenjska Plaza is especially lovely with its gorgeous surrounding scenery.
Where To Eat
While many of us do our best to travel on a budget, sometimes it's fun – and totally okay –  to splurge a little too. While it's a little more pricey, Areesha recommends grabbing dinner at a restaurant in Ljubljana Castle, specifically Restavracija Strelec located in the castle's Archers Tower. Dinner with a view! Plus, the dishes are presented "beautifully" and the modern interior and views make it totally photo-worthy as well.
In Bled, you can head to the Cafe Belvedere to "enjoy some refreshing, creamy gelato or the famous Bled Cream Cake with the postcard views of the Bled Lake in the background!" You'll also get great photos, regardless of whether or not you choose to eat there. Even though it's not a fine dining restaurant, it's "a nice place to stop by and relax."
Lodging
With the help of The Telegraph, we here at ARTRPRNR found an amazing hotel you'll want to take advantage of when you're in Ljubljana. The Vander Urbani Resort is prime real estate. This luxury resort is located in the charming Old Town of Ljubljana, making its location super convenient for guests. Take a look through photos of the hotel, and you'll want to book a stay there immediately. 
Equipment & Editing Tips and Tricks
Areesha tells us she usually uses a Nikon D750 and Sony a6500 cameras to shoot her content. She adds, "The lenses used are usually wide angle ones to get as much of the buildings as I can and I seldom use portrait lenses." Sounds perfect for getting the right shots in a place like Slovenia. Like many of our favorite content creators, Areesha uses Lightroom for editing photos.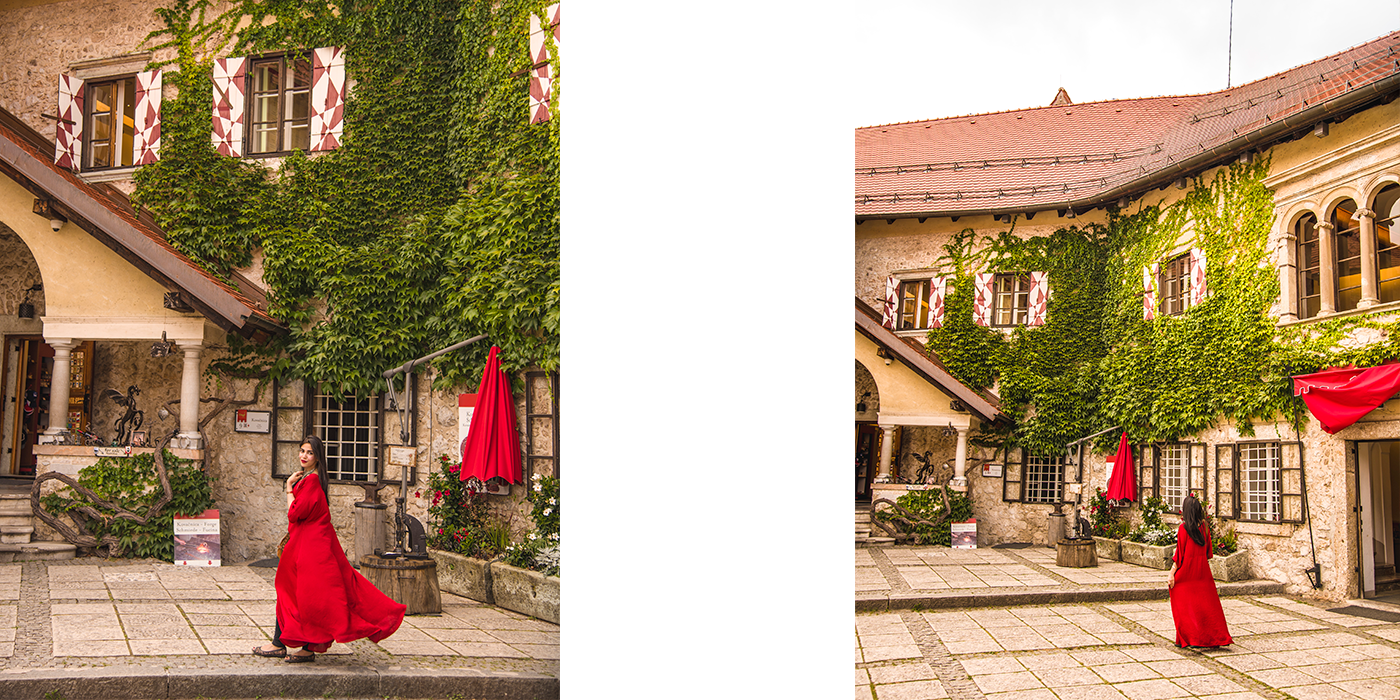 Follow Areesah around the world on her website at littlekhanswanderlust.com
Planning an Eastern Europe trip? How about Croatia?