Going to @condeslina will transport you into a world of emoji art. Lina Condes, a Ukranian sculptor has a passion for taking something we view as very functional in our everyday lives, such as emojis, and turning them into meaningful art. She compares her work to the art of Keith Harig. Find out how she got her start in our interview with her!
Give us a snapshot of your childhood.
I grew up in a little city called Cherkasy, about 2 hours away from Kiev, the capital of Ukraine. I didn't have what some people would consider "the finer things in life," but my parents worked hard and they ultimately made sure that I had a great childhood. Memories of my childhood serve as a constant reminder that culture and the arts offer access to all, not just a privileged few.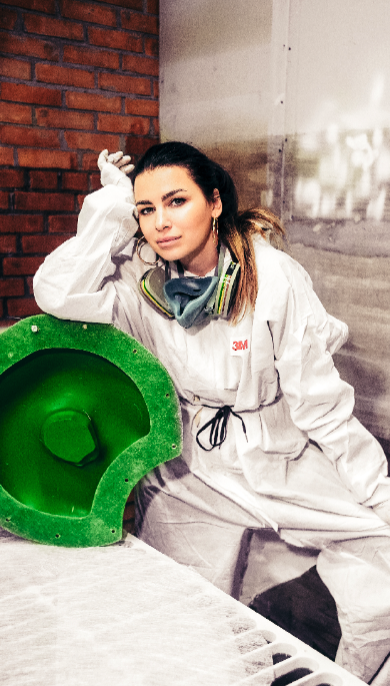 How did you become interested in pursuing art school?
My parents were very much into art and were extremely creative individuals in how they decorated and designed our home, so my imagination ran wild from a very young age. My mother knew how to draw very well, so I quickly became interested in wanting to learn how to sketch and draw as she did. To this day, I have saved art drawings that I made when I was 3 years old so that I can remember my childhood well. Art connects us to what I call our "imaginary past." It allows us to leave evidence of what we were feeling, what we were pondering, or what we were experiencing at a certain point in our lives. Throughout an entire life, a record can be made of an individual's imagination – and I realized I wanted to devote my life to creating such a record.
As you mentioned, you started as a sketch artist. Why did you switch to sculpture work?
I started out initially drawing as an artist, but soon thereafter I fell in love with 3D realistic sculptures. I was excited at the opportunity to push myself and explore new mediums. Although drawing always helps in getting my creative juices flowing, my excitement and creativity really shine in creating new and beautiful sculptures. From conceptualizing to actually getting into the studio, creating sculptures is where my passion truly resides.
There's nothing better than getting into my welding suit and realizing that I have made something that takes up space – something that is strong and durable – a work of art that wouldn't easily be destroyed. I hope that the image of a powerful woman in a welding suit creating bionic architecture is one of the many thoughts that come to mind when people look at my art.
What is the significance behind using emojis as your focus to represent an "unblemished
human"?
I always want to see the good in people, as simple as that sounds. I felt that I needed to come up with something that had the ability to calm even the angriest person, who could experience it and instantly change their emotion!
There is actually quite a tradition in pop-art to use genderless figures in order to make a statement: Keith Harig's work that famously shined a light on the AIDs Crisis used bubble-stick figures to represent human beings. His message was that the crisis was affecting humans regardless of sexual orientation or gender.
My message, while markedly different from Haring's, seeks to communicate over the divisions placed upon us in a similar way with the use of these genderless figures who have done no wrong, no right, and have no transgressions.  
You've exhibited in countless venues, including NYFW's 'Art Hearts Fashion' event. How was that experience?
It's always a good idea to combine Art and Fashion, as sometimes it is important to have a celebrity presence to help the ideas of an artist disseminate to as many people as possible. I wasn't too keen on the idea at first, but I eventually realized what a great opportunity it is for both young artists who have been practicing their whole lives, as well as individuals who are new to the art scene.

Do you plan on continuing to have a relationship to the world of fashion in your work?
If the opportunity presents itself I wouldn't be opposed to it, however, it would need to make sense with where I will be with my artistic endeavors at that point.
Sometimes, art is looped into an event in order to spark the discussion "art for art's sake." For example, my sculptures may be exhibited alongside fashion even when they have little or nothing to do with the fashion on display. In the future, I will aim to exhibit next to fashion that cuts similar undercurrents to my art.
How do you use your art to empower those who may not have the courage to be themselves?
If we simply practice positive thinking and visualizations, we'll be rewarded with peace of mind and enduring happiness. We create a space for people to share their hopes and dreams. We empower people to create their own walls. I believe that Using powerful visual aspects of art which draw your attention with the strong message which the artist conveys, will generate a dialogue in cities all over the world, dialog about social concerns or even global social topics.
It brings a community to places society has deemed unfit, connect people across racial and social divides, and encourage individuals to participate and act.
What forms of social media do you use to promote yourself and your art?
I use my Instagram page @condeslina as a media output of content of my brand and to take anyone through the beginning to the end of what it takes to be a master sculptor. All it takes is a dream and you decide when to make it a reality. Action is key.
Instagram also allows me to show the intersections of art in my life. I have images depicting how I create and exhibit my art, live and breathe with my friends, and look for experience in the world.
What does the future hold for you?
As an artist, you must continue to recreate yourself… it's a never ending story. Keep an eye open on what's to come! Keep your eye on New York. Stay tuned for the new reveal at Art Basel Miami!
Photography by Sara Abbassi